EMERGENCY RELIEF SALE - 10% OFF GUN SAFES
Gun Safes Made by Master Vault Builders
Sportsman Steel Safes builds gun safes & vault products for America's most revered institutions. Our high quality gun safes, large gun vaults and gun safe rooms are located at the FBI, CIA, Homeland Security, U.S. Secret Service & Quantico Training Facility. Our gun vault products have been tested in 2000 degree fires, C-4 explosions & have passed 1HR torch and grind tests performed by nuclear power plants. You can purchase your gun vault or vault door direct from our company. Call for a quote. We have gun safes on sale everyday - 800-266-7150.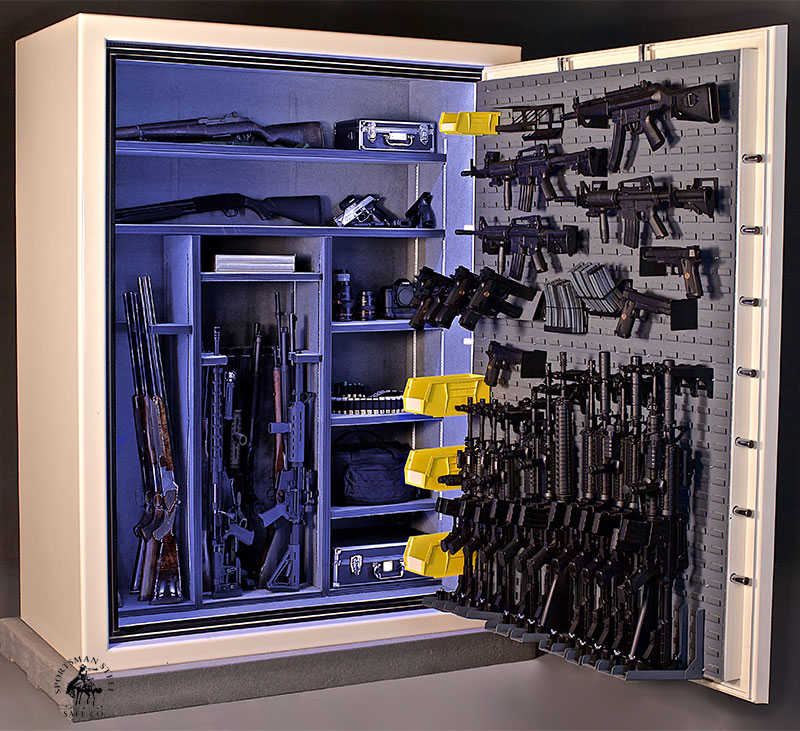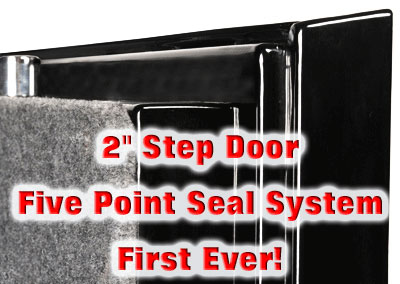 URGENT - READ:
99% OF GUN SAFES HAVE FLAT DOORS & DRYWALL FIRE-PROOFING. WE'RE THE ONLY COMPANY WITH
2" STEP DOORS & 6000 DEGREE CONCRETE FIREPROOFING IN U.S.
WATCH VIDEO - C-4 MILITARY BLAST TEST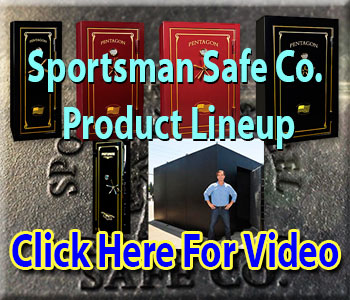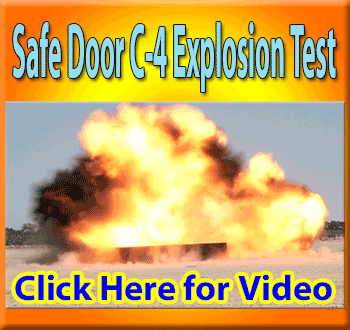 WATCH VIDEO - HOTTEST FIRE TEST EVER!
SPORTSMAN GUN SAFES VS. BOX STORE GUN VAULTS

Research shows consumers who buy box store gun safes think they are getting a high quality safe. But this couldn't be further from the truth. Most of these drywall gun safes are unable to withstand standard fires and can be pried open easily. Selling factory-direct allows Sportsman Safes to offer you twice the fire and security. Our 2" Step Doors, 6000 degree concrete fireproofing & 3/4" thick pry-resistant frames reflect how REAL SAFES are built. Most box store gun safes are manufactured with inexpensive drywall fire board and thin security doors. Not Sportsman Safes. Our 6000 degree concrete fireproofing is 4 x more fire resistant than drywall and our 2" step doors have two strength points; similar to how commercial-grade safes are built. Call us today for gun safes on sale - 800 266-7150.


SPORTSMAN GUN SAFES

2" STEP DOOR - 5 SEALING POINTS
CONCRETE FIREPROOFING
10 GAUGE & 1/4" STEEL BODIES
3/4" STEEL ANTI-PRY FRAME - 5 X THICKER
100% LIFE TIME WARRANTY

BOX STORE GUN SAFES

FLAT DOOR - 1 SEALING POINT
DRYWALL FIREPROOFING
14 & 12 GAUGE STEEL - THINNER
1/8" FRAME - EASY TO PRY LIMITED
LIFE WARRANTY

Get a REAL SAFE - Get a SPORTSMAN







---

Why Sportsman makes the best gun safes. - Click Here.
Visit Our Factory Stores Nationwide

Long Beach and LA
6311 N. Paramount Blvd.
Long Beach, CA 90805

Houston, Texas
2219 West 34th Street
Houston, Texas 77018
Just off the 610 Freeway


4710 S.W. 20th Street
Oklahoma City, OK 73102

Back to top

Sportsman Steel & Pentagon Build Origins.
All Vault Doors & Blast Doors are US Made
All 1/4" Body & Pyro Models are US Made
All Jewelry Safes & Wine Doors are US Made
All Handgun Safes & Storm Shelters are US Made
All Iron American Series & Walk-In Vaults are US Made
Gun Safes are either US Made or US/Overseas Combos
Privacy Policy: All info submitted on this website regarding purchasing a gun safe is used solely to respond to customer inquiries. We do not sell or share your information.
Click for Sportsman Introductory Audio Message.
Product images in this site may show standard and optional features and accessories.
Please contact us for full details.