GUN SAFE SPECIALISTS
CALL FOR QUOTE 800-266-7150
40 YEARS BUILDING AMERICA'S BEST GUN SAFE
Welcome to Sportsman Steel Safes. We build gun safes & security products for America's most revered institutions. Our firearms safes and safe rooms are located at the FBI, CIA, Homeland Security & U.S. Secret Service. We attribute our four decade success to simply giving our customers more for their money: thicker steel, better fitting step doors and quite simply a more technologically advanced gun safe. Where most gun vaults made in the USA are manufactured with flat doors and low temperature drywall fireproofing, we build our fireproof gun safes with 2" step fire doors, 3/4" anti-pry doors & high temperature concrete fire insulation. The way real safes are made. Enjoy our site!
Lifetime Warranty & Money Back Guarantee
Lifetime Warranty & Money Back Guarantee - We're proud to announce Sportsman Safes have 100% lifetime warranties. This includes the safe, interior. and even the locks. And if your safe experiences a fire, we'll give you a brand new safe at no cost. Our gun safes also have a "Satisfaction Promise," which states if you don't absolutely love your Sportsman gun vault, you can return it for a full refund.
Why Sportsman Gun Safes Crush Competition

· 6000 Degree Concrete Fireproofing
· 2" Step Doors - 4 Sealing Points
· Tactical Weapon Door & Interiors
· Lifetime Warranty on EVERYTHING
10% OFF GUN SAFES IN STOCK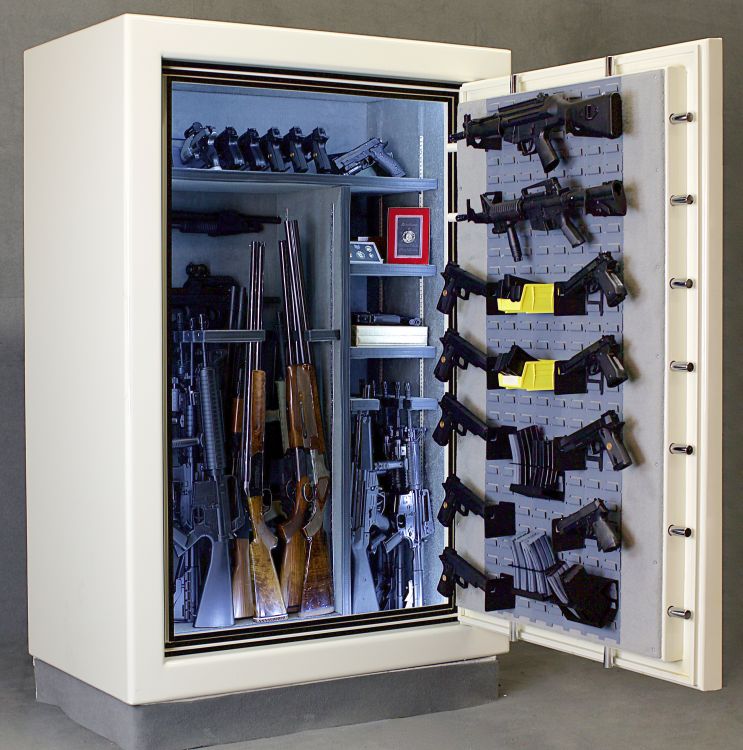 "After years of hard work & reinvention, we've invented America's first high performance gun safe."

-- Kevin Hand,
CEO Sportsman Steel Safes
CHRISTMAS SALE - 1 YR INTEREST FREE
BRAVO SERIES - 60 x 32 x 28 - 900lbs
CONCRETE FIRE & GLOSS PAINT
REG. $2000 - Sale $1595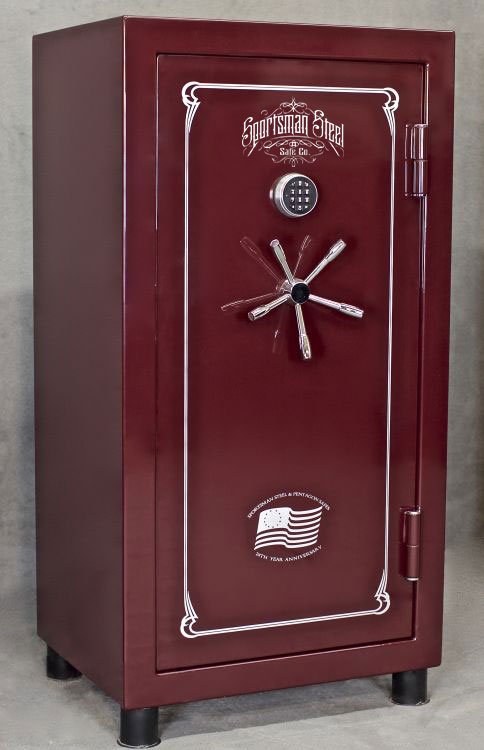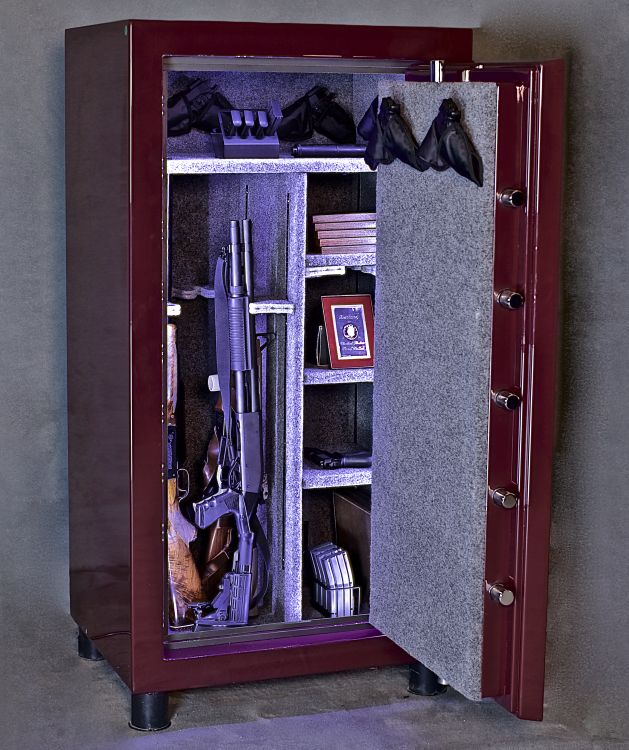 BRAVO SERIES - 60 x 40 x 28 - 1050lbs
CONCRETE FIRE & GLOSS PAINT
REG. $2695 - Sale $1995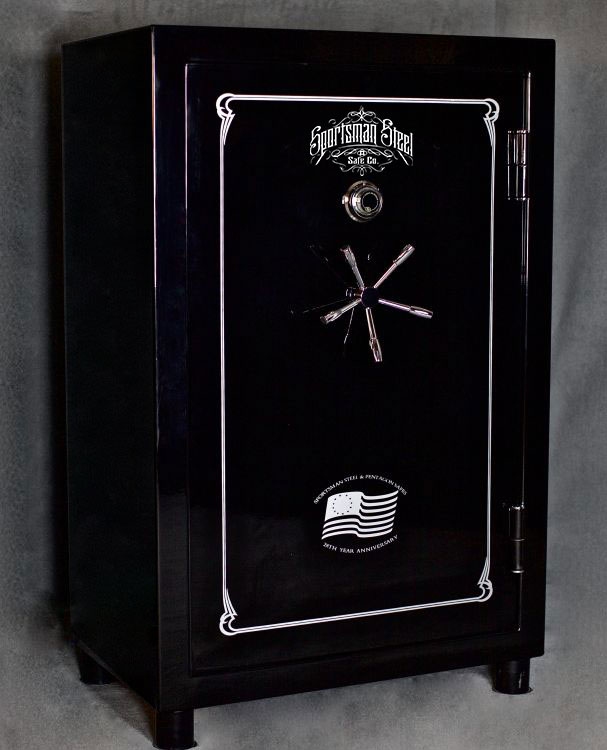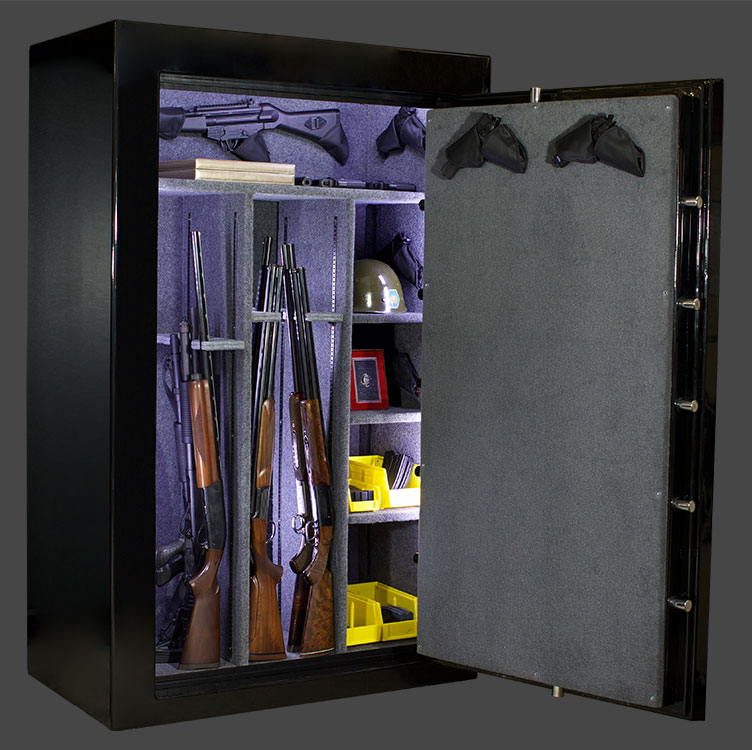 THE CROWN - 60x48 x 30 - 1370LBS
INCLUDES TACTICAL PANEL
REG. $4000 - Sale $2995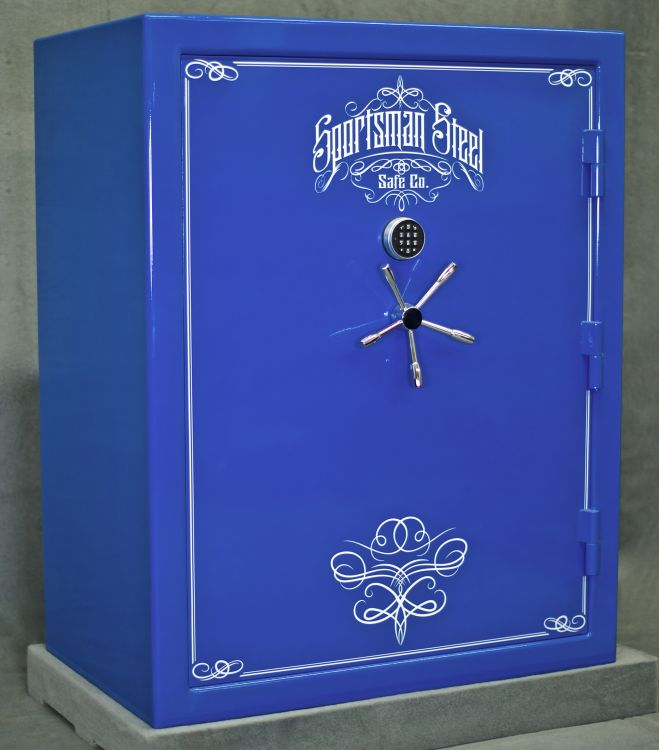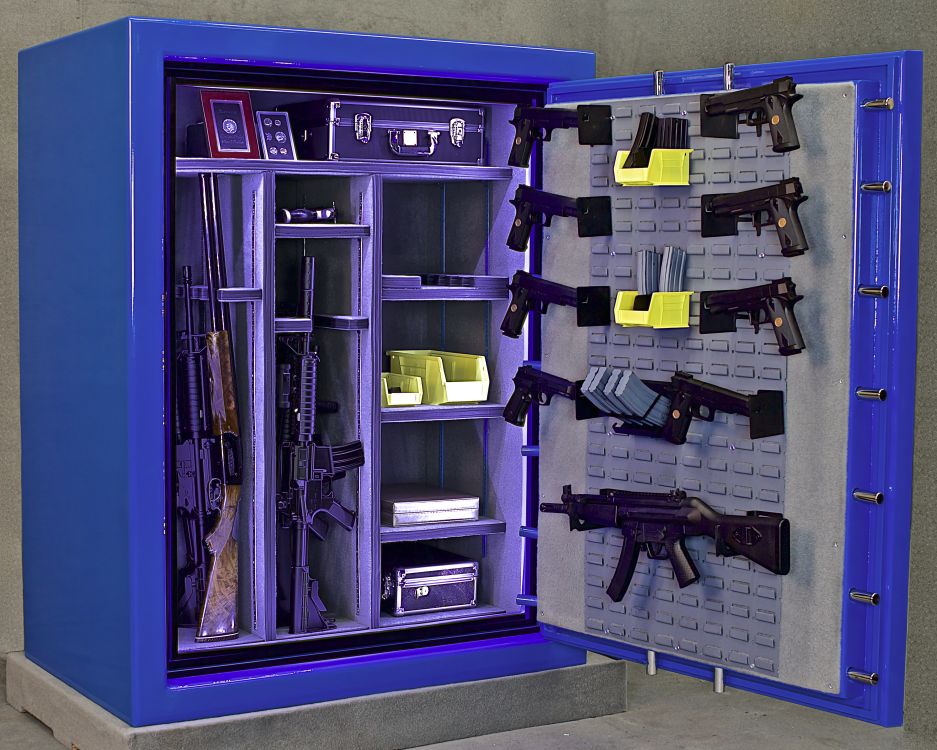 Tactical American - 60 x 48 x 33 - 1620 lbs -
INCLUDES TACTICAL PANEL
REG. $7500 - Sale - $3995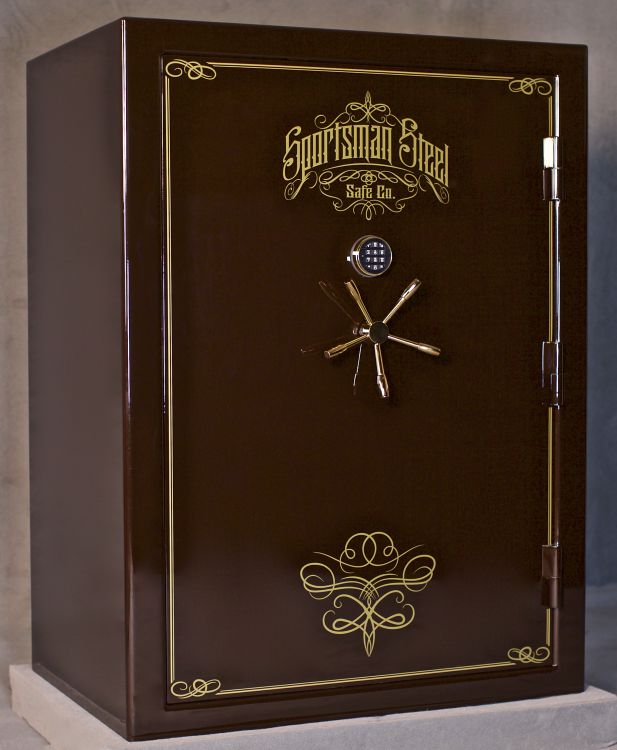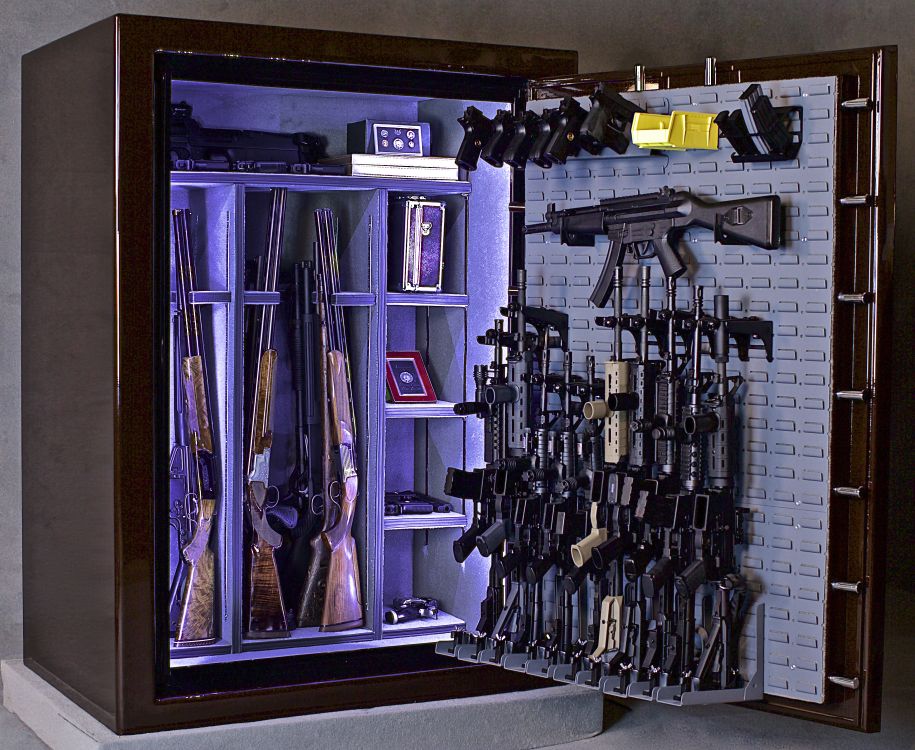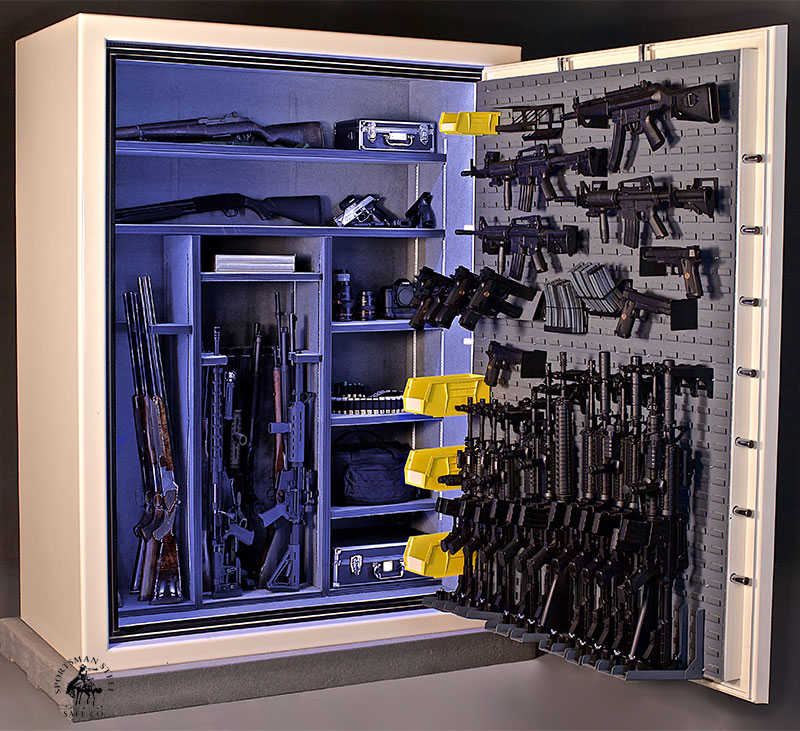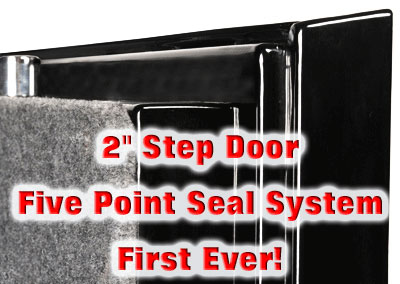 URGENT - READ:
99% OF GUN SAFES HAVE FLAT DOORS & DRYWALL FIRE-PROOFING. WE'RE THE ONLY COMPANY WITH
2" STEP DOORS & 6000 DEGREE CONCRETE FIREPROOFING IN U.S.
WATCH VIDEO - HOTTEST FIRE TEST EVER!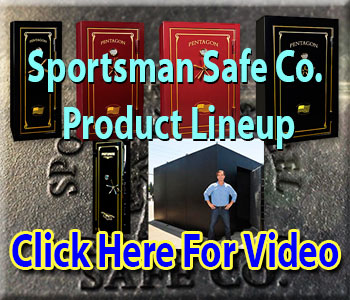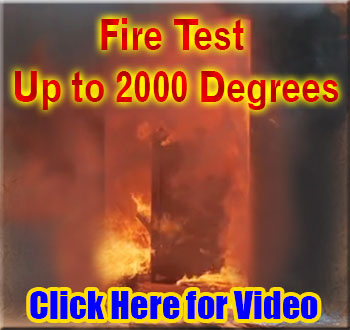 ---

Why Sportsman makes the best gun safes. - Click Here.
Visit Our Factory Stores Nationwide

Long Beach and LA
6311 N. Paramount Blvd.
Long Beach, CA 90805

Houston, Texas
2219 West 34th Street
Houston, Texas 77018
Just off the 610 Freeway


4710 S.W. 20th Street
Oklahoma City, OK 73102

Back to top

Sportsman Steel & Pentagon Build Origins.
All Vault Doors & Blast Doors are US Made
All 1/4" Body & Pyro Models are US Made
All Jewelry Safes & Wine Doors are US Made
All Handgun Safes & Storm Shelters are US Made
All Iron American Series & Walk-In Vaults are US Made
Gun Safes are either US Made or US/Overseas Combos
Privacy Policy: All info submitted on this website regarding purchasing a gun safe is used solely to respond to customer inquiries. We do not sell or share your information.
Click for Sportsman Introductory Audio Message.
Product images in this site may show standard and optional features and accessories.
Please contact us for full details.