WIDE GUN SAFE - THE ARSENAL
60"x40"x28"
Wide Gun Vaults - up to 30 Rifle or Shotgun Capacity
ALL SAFES ABOVE D.O.J. COMPLIANCE
Looking for a wide body safe that can hold plenty of guns and ammo? The Arsenal series gun vaults can hold up to 30 rifles or shotguns and is available in many different configurations. Scroll down the page or click a quick jump link below. Please call to talk with one of our wide body safe experts.
| | |
| --- | --- |
| Holds Up to 30 Long Guns | Side Shelves - Optional Pistol Door |
60 Min Fire - 1020lbs - 1" Step Door -
$1699
"Best Value"

90 Min Fire - 1130lbs - 2" Step Door -
$2299
10 GAUGE BODIES - FREE THIS MONTH



2" Step System Door
SEALS ON 5-POINTS

3/4" Steel Frame
MOST PRY-RESISTANT

TACTICAL RIFLE
WEAPONS STORAGE

CUSTOM PAINT
WOOD GRAIN
Click on images to enlarge.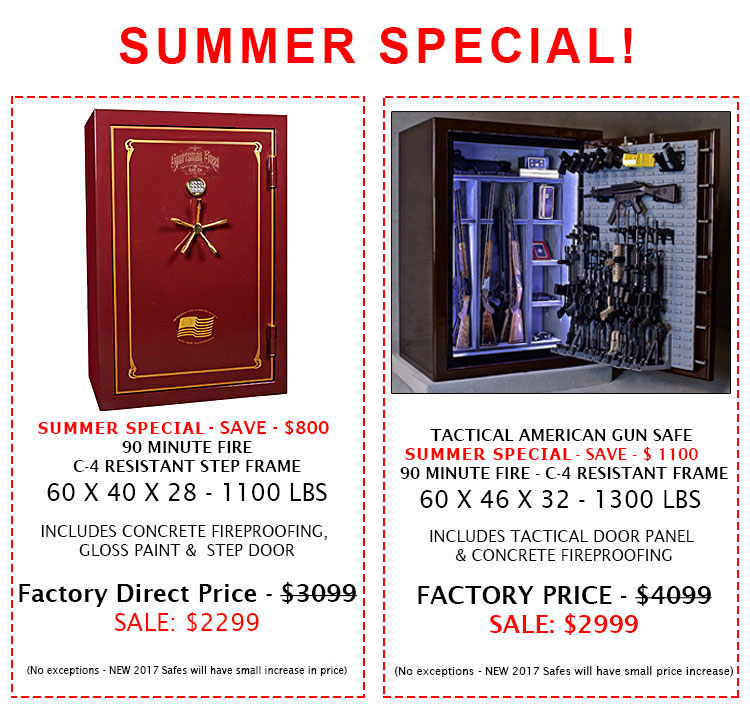 SPORTSMAN TECH PACKAGE
LED Lights, Electrical & Drying System
Open your safe and your weapons are instantly illuminated. We're also including a dehumidifier, twin electrical outlets and outlet hole with expandable gaskets to maximize your fireproofing. If you're concerned about an electrical hole reducing your fire rating, a battery package is available. Sale Price $295-395
WATCH VIDEO -
C-4 MILITARY BLAST TEST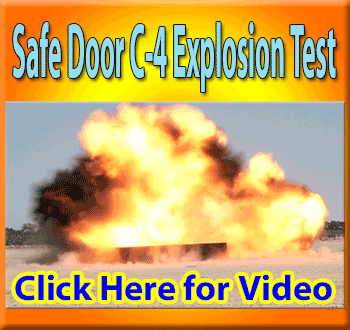 ANNIVERSARY SERIES
60"x40"x28" - 1130 lbs.
"Best Value" 90 MIN FIRE - $2299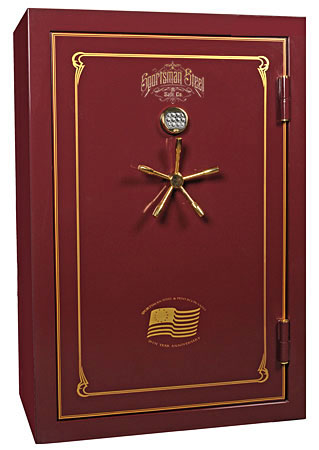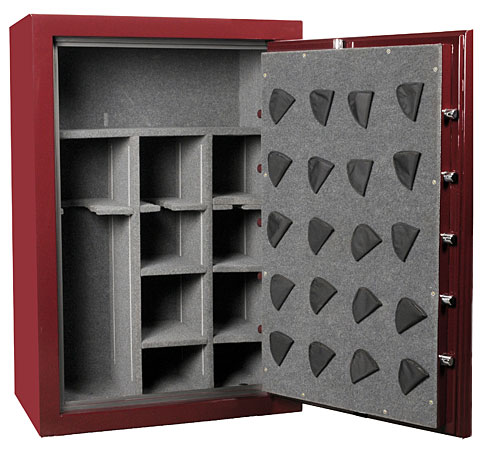 2" Step Door - 90 Min Fire
4 Layer Fireproof - Body & Door
10 Gauge Body - 2.25" Fire Wall
3/4" Steel Pry-Resistant Frame -
4 x Thicker than Box Store Safe
Black or Burg. Semi-Gloss Finish
Spindle Wheel - Gold or Silver
Pistol Holsters on Door
All Walls Fully Carpeted

2 Relockers - Brass-Arm & Indep.
2 Expandable Gaskets
S & G Combo Lock - Optional:
LG Digital Lock (US Made)
12 Bolt System W/ Fire Gaskets
D.O.J. Compliant Gun Safe
Convert Interior - Extra Gun Rack
Life Warranty - Lock & Fire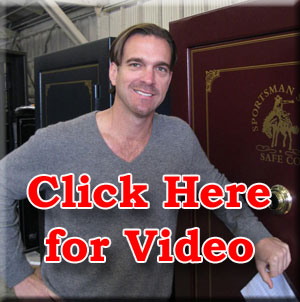 Arsenal Video
WE BEAT COMPETITOR'S PRICES - CALL 800-266-7150

CLICK -- FIND A GUN SAFE DEALER NEAR YOU
Tactical Weapon Interior - Increase Storage Space
TACTICAL WALL PANELS - $249 EACH
Add a Tactical door interior to your Arsenal gun safe.
Tactical door interiors can be fully customized in
virtually any configuration.

Click on thumbnail images to enlarge.





Ready-to-Use Tacticals




Metal Ammo Racks






The Best All Steel Components




Custom Configurations

For more information on Custom Interiors please click here.
WIDER GUN SAFES WILL SAVE YOU MONEY
Our wide gun safes are 40% larger than standard sized gun safes. Going larger means you can fit more guns, ammo and pistols. Which means you won't run out of space like many gun safe customers. Larger also means your safe will be heavier, making it harder for a thief to remove during a burglary. The Arsenal can fit 18-30 long gun with five adjustable shelves. The shelves provide extra space for legal papers, jewelry and family heirlooms. Your Arsenal can be fireproofed 30 Min. -3 Hours. And not with drywall like our competitors, but with Concrete fireproofing - 4 x more fire resistant than fire board. So remember to buy a gun safe bigger than you need. You'll thank us one day.
| | |
| --- | --- |
| 40% Larger Than Standard Sized Gun Safes. | Gun Safe Fire Test - $3,000 Cash In Safe! |

Back to top
Iron-American Series
BEST GUN SAFE EVER BUILT

60"x44"x32"
2000 lbs.
$4995

Sportsman's

NEW

Iron-American is the first gun safe built like a $10,000 bank vault. With twin Defender Locks, 5-Barrel Relockers, Double 1/4" Steel Body & 6000 Degree Concrete fireproofing, no gun safe on the planet compares! Our Iron-American gun safe is the only gun vault to possess commercial grade safe features at the price of a gun safe.


DOUBLE 1/4" STEEL BODY - USA MADE
3" JIG-SAW DOOR - 5-SEALING POINTS
2 HR FIRE - 4" THICK FIREWALLS
6000 DEGREE CONCRETE FIREPROOFING
DEFENDER DUAL-LOCK SYSTEM
5 PRONG SPINDLE WHEEL
SEMI-GLOSS FINISHES - 8 COLORS
1/4" INNER LINER OF STEEL

GOLD OR SILVER PLATING
18 BOLT - 4-WAY LOCKING SYSTEM
1" SOLID 60 R.W. HARD PLATE
3/4" THICK BOLT PROTECTORS
4 BARREL RE-LOCKERS
CONTINUOUS WELDS IN BODY
PERSONAL INITIALS
LIFE WARRANTY FIRE & LOCK
Concrete Fireproofing

Best Fireproof Gun Safe in History

2 Layers of UL 5/8" fire liner on six sides of safe & door
Concrete fireproofing - 4 x more fire resistant than fire board
2 Palusol® Expandable Door Gaskets that expand to seven times their original size
2" Jig-Saw Step System Door -
4-Point Seal - Like a commercial-grade safe





Call About Premium Paints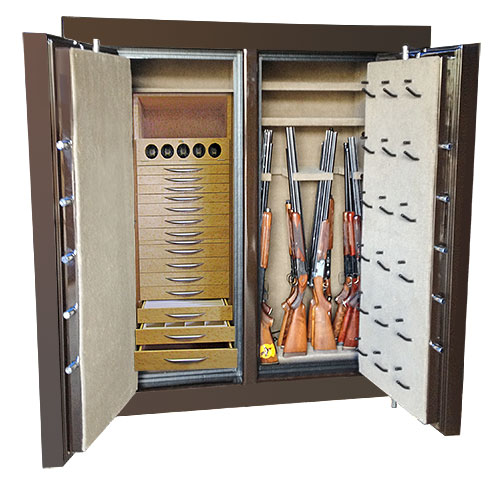 Custom Gun Safe Interiors - Jewelry Drawers - Deluxe Pistol Holders on Safe Door
ARSENAL PRICING - 60"x40"x28"
A - 1
10 Gauge Body - 30 MIN FIRE - 1/4" Door, 1/2" Steel Frame, 10 Bolts - 750LBS
$1499
A - 2
1" Jig-Saw Door - 60 MIN FIRE - 2 Expandable Gaskets, 3/4" Steel Frame - 1000LBS
$1699
A - 3
2" Jig-Saw Door - 90 MIN FIRE - Two Relockers, 12 Top & Bottom Bolts - Pistol Holders on Door - 1180LBS
$2399

A - Iron-American Series

60"x44"x32"

- 2 HR Fire - 3" Jig-Saw Door, 8-Layer Fire System - SEE IRON AMERICAN PAGE - BEST GUN SAFE IN USA - 2000 lbs

$4995
*1/4" Steel Body Package $699 - Comes with 1" Hardplate with 2 Barrel Relockers
WE GIVE SHIPPING DISCOUNTS ON GUN SAFES IN HOUSTON, DALLAS & OKLAHOMA CITY - Call for Quote
Call for a gun safe quote.
1-800-266-7150


Back to top
Product images in this site may show standard and optional features and accessories.
Please contact us for full details.