BLAST DOORS AND BLAST Resistant Doors
Sportsman Steel manufactures blast resistant doors for commercial and residential applications. Our blast doors are designed to protect against high pressured blasts, severe explosions and explosion borne missiles. AR-500 ballistic grade steel is standard on all our blast doors. AR-15 is the same ballistic grade steel that lines the bottom of military hummers to protect them against landmines & IED's.

Our blast doors are also fire resistant. Our doors and frames are manufactured with multiple layers of steel and 6000 Degree Magnesium Oxide concrete. Our standard fire rating is 2 HRS with up-grades up to 3 hours. Our multiple steel doors and concrete fireproofing not only slows down fires, but also protects against cutting torches & drill attacks.

Installation is easy. We offer both bolt-in-place frames or U-shaped pour-in place frames. All customers receive a free CAD drawing and installation guide. An installation expert will be assigned to you to answer questions throughout your installation process. Call 800-266-7150 and one of our blast door experts will assist you with all your blast door needs.
WATCH VIDEO - C-4 MILITARY BLAST TEST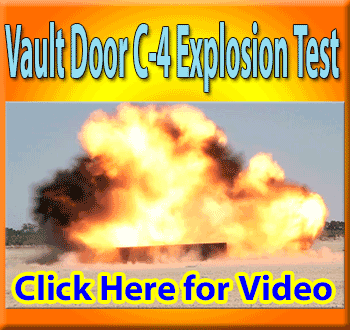 BLAST DOOR - 2 HOUR FIRE
NEW AR-500 BALLISTIC STEEL
1" STEEL DOOR - 1" CHEST-PLATE

80"x36"x8" - $5495
80"x42"x8" - $6295

3" Step Door - 1" SOLID STEEL PLATE - C-4 RESISTANT - SEE VIDEO
1" Steel Bolt Protectors - Thickest Blast Frame in Blast Category
1500lbs Empty - 2800 Filled with Concrete
5 - 1" Solid Steel Hinges
1" Thick Hardplate - 60 RW Rating
1/2" Thick Steel Frame
S & G Group I Lock w/Key - Comes with Blast Box
4 Barrel Relocker In Door - 5" x 1" Steel
Emergency Internal Release
18 Bolt System
Life Warranty
Bullet-Proof Door & INWARD SWING Available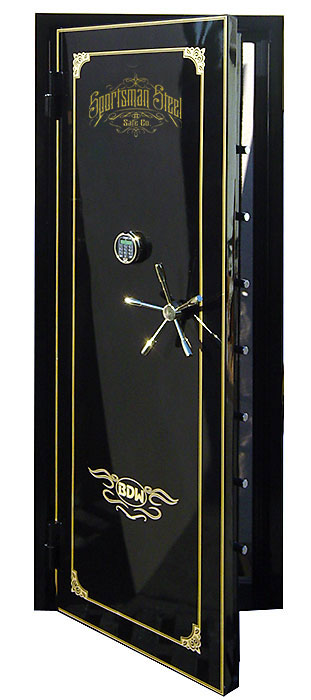 AR-500 Ballistic Vault Door
80" x 36" x 10" - 1500lbs - $5449
80" x 42" x 10" - 3400lbs - $6449
1/2" AR-500 Ballistic-Grade Steel
5" Step System Door - 12" Overall thickness
3.5 Hour Fire - Concrete-Filled Front Cavity
1" Solid Steel Blast Frame - Step System Configured
4 Blast Resistors in Door - Blast Compression Design
Blast Door - Accordion Structure
2 Palusol® Expand Gaskets - 1 On Each Step Frame
1" 60rw Hardplate -- 4 - 1" Thick Hinges
1/2" Thick Steel Frame - Multiple Layer Frame
USA Made - Locks, Steel, Gaskets, Technology
Sargent & Greenleaf Lock & Key (Group I Available)
NEW - 4 Barrel Spring Relocker
Internal Release- Spring Loaded
18 Bolt Independent System
---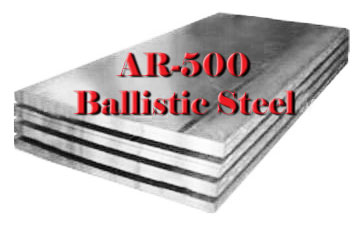 AR-500 Ballistic Steel - Bullet-Proof Door - Call for Pricing



Built with Quality and Pride
in the USA
"No Vault Doors Broken into in 36 years!!!"
CALL FOR FREE QUOTE: 800-266-7150
| | |
| --- | --- |
| 4 Blast Resistors in Door - Blast Compression Design | 1/2" Solid Steel AR-400 Armor Ballistic Steel |
| | |
| --- | --- |
| USA Made - Locks, Steel, Gaskets, Technology | 3.5 Hour Fire - Concrete-Filled Front Cavity |

Two-In-One Vault Doors
NBC & 4 Hour Fire Resistance

Pour-In-Place Frames
Continuous Welds - NBC Seals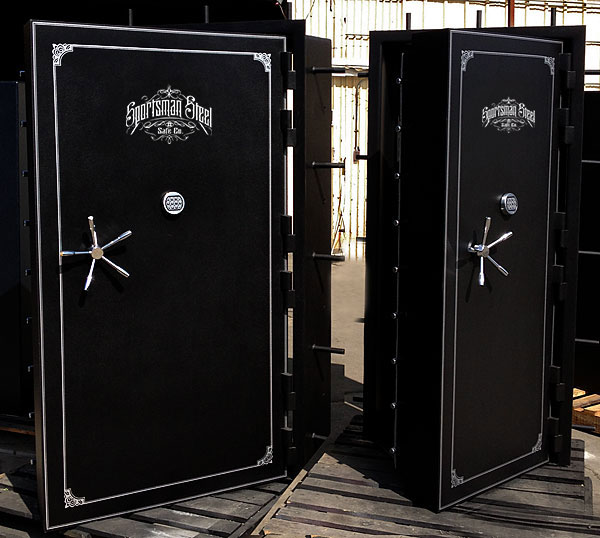 Add a nuclear biological chemical door to you storm shelter.
BLAST ROOMS & BULLETPROOF ROOMS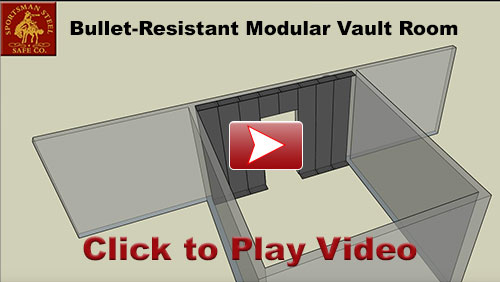 CALL FOR FREE QUOTE: 800-266-7150
Bullet Proof Doors Available.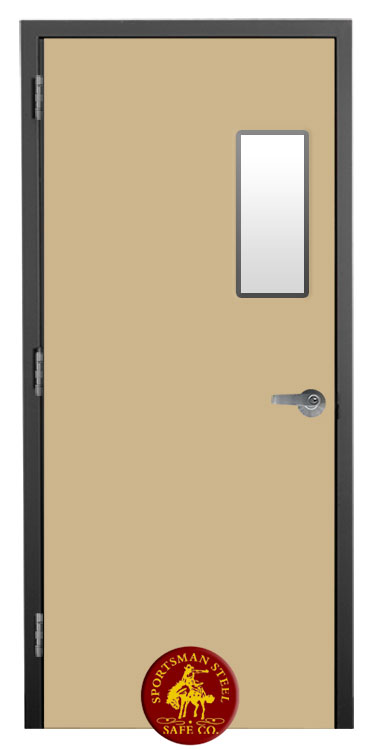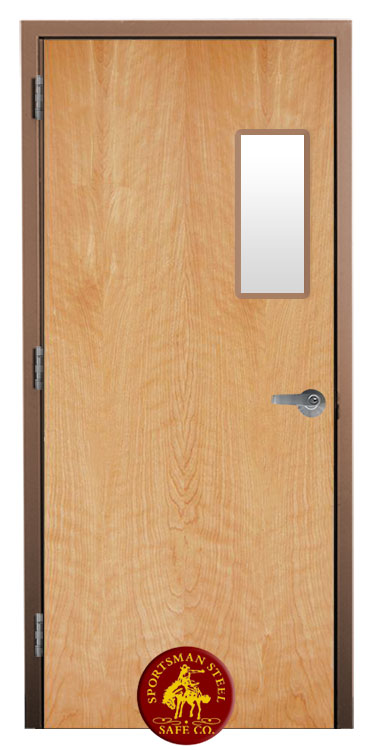 Bullet proof doors available. We can construct residential and commercial bullet resistant doors for your home or office. Our ballistic doors can be constructed in any size or bullet resistant level. Doors come in gray, tan and white. Call to learn more - 800 266 7150
CALL TO TALK WITH ONE OF OUR BLAST & BALLISTIC VAULT DOOR EXPERTS
800-266-7150

Back to Top
All Sportsman Steel & Pentagon Vault designs belong solely to Sportsman Steel, Inc. and are not subject to replicating for personal fabrication. If you have a company or are an individual who would like to license our designs call our legal team for a licensing agreement - (800) 266-7150.