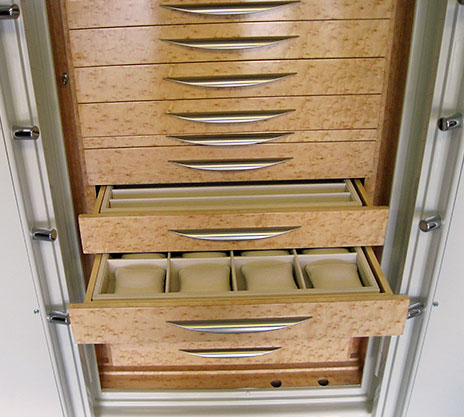 Clients include: FBI, CIA, Homeland Security & Smithsonian
Five Reasons Sportsman-Pentagon Jewelry Safes are Superior:
Twice As Thick Steel - Our Safe body's have Solid 1" Thick Steel Construction
Torch-Resistant Stainless Steel Door Protection
Step System Fire Doors - Seal Like a Bank Vault - Five-Sealing Points
Five Relocking Devices in the Door - Custom Build On Every Safe
Cabinetry Made By World-Class Artisans - Designs by David Epstein

Our Jewelry Safes are Built with Quality and Pride in the USA

SECURITY & FIRE PROTECTION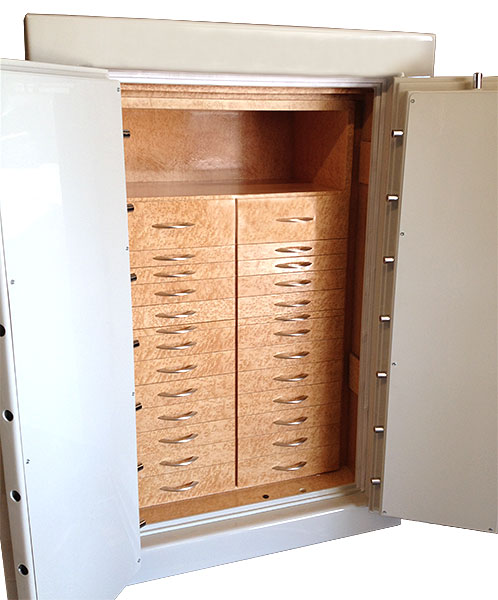 Sportsman & Pentagon has safes at the FBI, CIA, Secret Service, Homeland Security, The Smithsonian and every branch of the military. Many claim to build the highest quality security safes in the country, but few have government accounts. The reason we have security products in almost every government agency in the USA is simple: our quality and factory-direct prices. Our Jewelry Safes are no different. They have our exclusive 3" step doors that seal on five levels. Bolt protectors that are 3/4" thick solid steel and 5 independent re-lockers that have never been defeated EVER. And if you're looking for lavish cabinetry, search no more. Our bird's eye maple drawers are the highest-end on the planet. And our track record is top notch. No safe has ever been drilled open in 35 years. We attribute this to our 1" thick hardplate and all the other inventive elements that are standard on our custom built Jewelry Safes.

ELEGANT & EASY TO USE

From the Romans to Silicon Valley, the SECRET to great design has always been... simplicity. That's why our safes come with advanced U.S. made digital locking systems that can be opened in one second. With six re-lockers and lock down features, our digital systems are one of a kind. Simply push six numbers and your safe door opens with ease. Our Bel Aire Series safes come with classic upholstered shelves or high end maple jewelry drawers. Trays can be constructed with solid maple wood or Italian imported leather. Everything is elegantly illuminated by LED lights, including custom-built watch winders if you choose to order them. There is no wood interior we can't replicate. Our talented wood artisans can create anything from custom "pull out watch winders" to a Maple "Lazy Susan" to utilize your space more efficiently. Our Security Installers are also capable of fitting your safe with government-level seismic motion detectors and door sensors that can be hooked up to your home alarm system. Our painters are capable of painting your safe any color or style. From standard Poly-Urethane paint to Rolls Royce level three part paints. When it comes to custom options... the sky's the limits.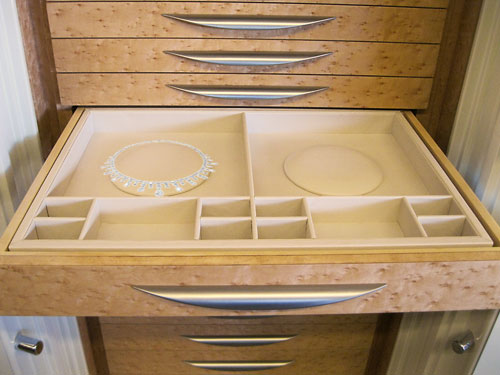 POSH LUXURY...

Sportsman & Pentagon knows elegance. We've worked with designers placing our products in museums, multi-million dollar homes and art galleries. Your safes appearance can be 1950's post-modern, Old World or Contemporary, expressed by a wide variety of finishes and or textures. We will make sure your safe compliments and fits into the design and look of it's final destination. Whether you need a safe for jewelry, computer files, watches or gold bullion, SPORTSMAN & PENTAGON will design you a safe that reflects your home's style.

CUTTING OUT THE MIDDLEMAN...

Did we mention we are the manufacturers? Custom built safes are usually sold to customers through a middleman. Why buy your safe from an expensive Beverly Hills office for double the price. Buy your safe factory direct from us, and cut out the middleman and expense of a Beverly Hills office and SAVE $1000's. By buying your safe directly from us, you will pay a fraction of what our competitors are selling comparable safes. So call us for a quote... 800 266 7150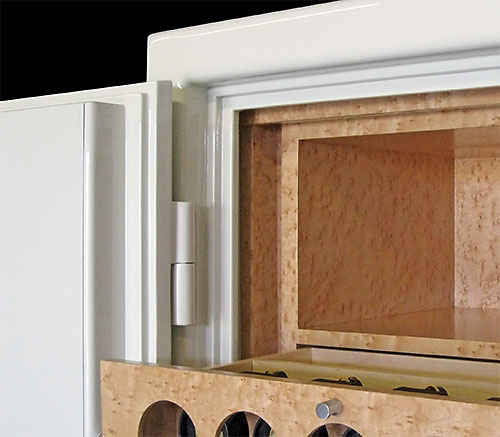 SPLENDID SERVICE PERFECTED OVER 35 YEARS IN BUSINESS...

Our safes are Life-Time Warranted. If something breaks, we fix it. Period. No questions asked. We also deliver EVERYWHERE. We ship safes to every state. Since we've been in business for four decades, there isn't a delivery/move situation we haven't seen. We've installed safes in basements, offices, bedrooms, up five stories, crammed through windows and skylights. We've moved custom vaults into underground safes rooms, nuclear shelters and storm rooms. And our service is always discreet and confidential. Please contact us for a consultation. Our safe experts will talk to you by phone or we can come to your house for an in-home installation meeting. We take care of every detail. Your JEWELRY HOME SAFE can be ordered by phone or by visiting one of our three showrooms across the country. We have offices in Los Angeles, Long Beach, Houston and North Carolina. Call us at 800 266 7150 and talk to one of our safe experts. We will explain everything you need to know about safes and give you a price.

Kevin Hand, COO-CEO Sportsman-Pentagon Vaults - 800 266-7150
Clients: FBI, CIA, Homeland Security & U.S. Secret Service




The Bel Aire Series



The security you deserve for your precious valuables.

60" x 30" x 28" - 2 HR Fire
1" Solid Steel Doors & 1/2" Steel Walls
Custom Interior - 1800lbs - $ 9,800

60" x 40" x 28" - 2 HR Fire
1" Solid Steel Doors & 1/2" Steel Walls
Custom Interior - 2400lbs - $ 13,800

72" x 30" x 28" - 2 HR Fire
1" Solid Steel Doors & 1/2" Steel Walls
Custom Interior - 2400lbs - $ 13,800

72" x 40" x 28" - 2 HR Fire
1" Solid Steel Doors & 1/2" Steel Walls
Custom Interior - 3500lbs - $ 18,800

Call for your complimentary consultation:
800-266-7150
Other sizes and custom colors available.
| | | | | |
| --- | --- | --- | --- | --- |
| | | | | |
| 72x50x28 | 72x42x28 | 60x40x28 | 60x32x28 | 60x25x22 |
Elegance · Security · Fire Protection · Easy to Use
Click on Gallery Images Below to Enlarge