Small Gun Safes

"Built like a Real Safe - Not a Gun Safe"


THE SERGEANT -

60"x25"x22"




Want a small gun safe that really works? Did you know that most inexpensive gun safes can neither stand up during fire or keep out a simple pry bar. Our Sargent is different! They're constructed with step doors that seal on five levels during fires. And the 3/4" pry-resistant frame makes prying a near impossible. Call Us for a Quote.



2-10 Long Guns






Side Shelves - Optional - Pistol Door



40 Min Fire - 400lbs - 1/4" Door -
60 Min Fire - 550lbs - 1" Step Door -
"Best Value"
90 Min Fire - 690lbs - 2" Step Door -
10% OFF 6000 Degree Concrete Gun Safes
Add a Tactical door interior to your Arsenal gun safe.
Tactical door interiors can be fully customized in
virtually any configuration.

Click on thumbnail at right images to enlarge.





Ready-to-Use Tacticals




Metal Ammo Racks






The Best All Steel Components




Custom Configurations

For more information on Custom Interiors please click here.

A Small Safe That's Still a 'Real' Safe!
The Sergeant is one of our most popular gun safes because it can be hidden easily. In your closet, storage room or back office. Our small closet size safe can be placed in remote areas in your house burglars will seldom look. It may be small, but it's twice as strong as other gun safes with the same dimensions. Many so-called gun safes in this size category are just flimsy gun cabinets weighing as little as 150 lbs. Our Sergeant small gun safe weighs 500-700lbs. It is perfect for 6 long weapons with five side shelves. Plus, you can add our super fireproof doors to the safes. Many other gun vaults do not allow you to put the better quality options on small safes. Not us... we can add 1/4" bodies and 1" thick doors to your safe making it a super heavy-duty gun safe. And the doors are easy to remove and bring upstairs if that's on your mind. If you're going for a small gun safe, our Sergeant is right for you.

NEW VIDEO!




Gun Safe - Fire Test
$3,000 Cash In Safe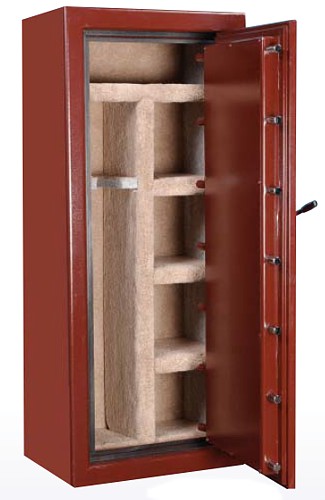 60 Min Fire - 600lbs
1" Step Door - $999

Body Construction
Press-broken Steel - Uni-Body Bent Construction
1/2" Holes for Bolt Down - (Ask your salesman)
1/8" Steel Body - 1/4" Steel Body Option
1/2" Thick Steel Frame Protects Your Bolts!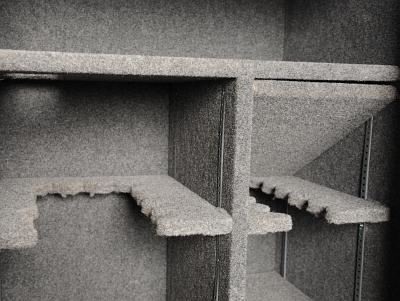 NEW!
Convertible Interior with extra gun rack.
ANNIVERSARY SERIES
60"x25"x22" - 600 lbs.
"Best Value" 90 MIN FIRE - $1399
2" Step Door
60 Min Fire
$1399




CALL: 1-800-266-7150





2" Jig-Saw Door
2" Step Door - 90 Min Fire
4 Layer Fireproof - Body & Door
10 Gauge Body - 2.25" Fire Wall
3/4" Steel Pry-Resistant Frame -
4 x Thicker than Box Store Safe
Black or Burg. Semi-Gloss Finish
Spindle Wheel - Gold or Silver
Pistol Holsters on Door
All Walls Fully Carpeted
2 Relockers - Brass-Arm & Indep.
2 Expandable Gaskets
S & G Combo Lock - Optional:
LG Digital Lock (US Made)
12 Bolt System W/ Fire Gaskets
Convert Interior - Extra Gun Rack
Life Warranty - Lock & Fire


The Sarge Safe Video
Custom Double Pistol Holster
FREE This Month!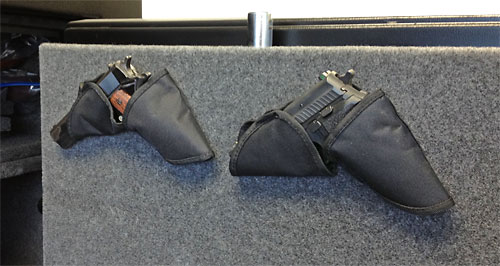 CLICK -- FIND A GUN SAFE DEALER NEAR YOU

Back to top
NEW!Iron-American Series
Best Gun Safe Ever Built -
Three times the Strength and Fire-proofing.
60"x27"x28"
1450 lbs.
$2995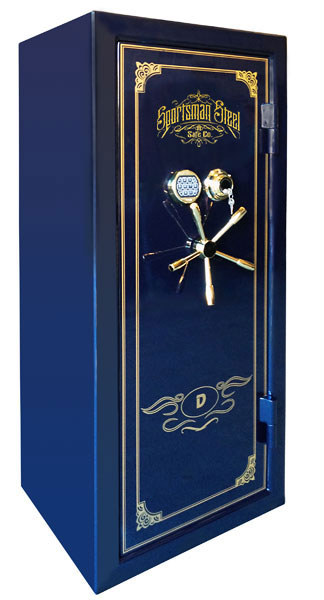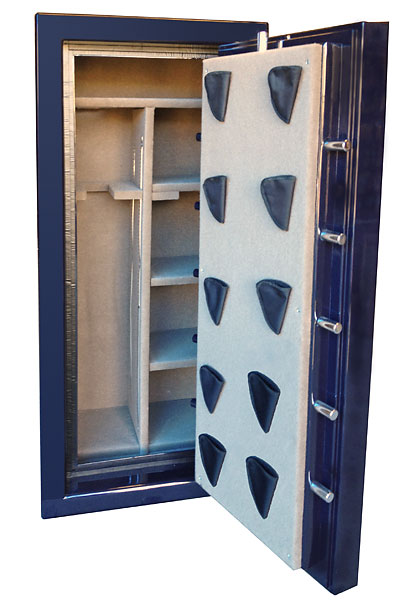 The SERGEANT
Iron-American Series


Sportsman's Iron-American is the first gun safe built like a commercial grade safe. It possesses the highest structural strength and most advanced fire design in the gun vault industry. With double D-Day Locks, 5 Barrel Relockers, 3/8" solid Steel Body, 6000 Degree Concrete Fireboard, 3" Step Door, Inner Steel Liner and 2 Hour Fire, it's the only gun vault in the USA to incorporate features found on a "Tool & List" government level safe. And with ten custom colors to choice from it has the appearance of a fine piece of art.



Iron American Series Features
DOUBLE 1/4" STEEL BODY - American Made
3" Step System Door

NEW!

4" Thick Firewall Double-Steel
2 HR Fire
8 Layer Fire System - First EVER!
6000 Degree Concrete Fireboard
Quadruple Fireboard
D-Day Double Lock
5 Prong Spindle Wheel
Semi-Gloss Deluxe Finishes
1/4" Inner Liner of Steel

Gold or Silver Plating
18 Bolt Top & Bottom Bolt System
All Walls Carpeted
1" Solid 60RW Hardplate
3/4" Thick Bolt Protectors
4 Barrel Re-lockers
Double Steel Body
Continuous Welds in Body
Personal Initials
Fire & Lock Warranty
Lifetime Warranty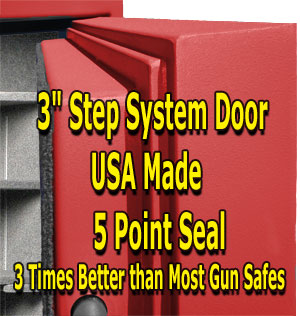 "The King of Gun Safes."

With 6" Total Thickness Our Doors Weight
Twice a Competitor's Gun Safe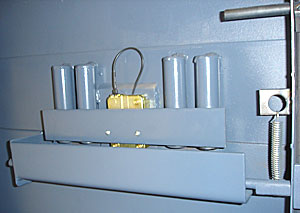 4 Barrel Relockers

Back to top
USA Made Jewelry Trays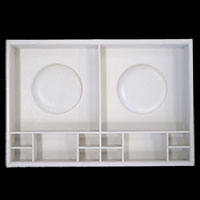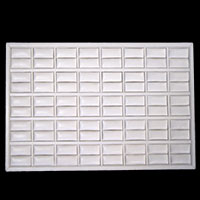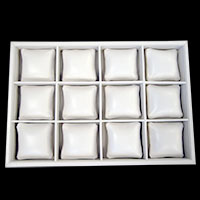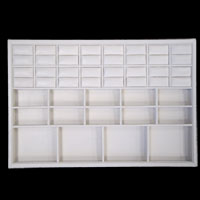 Add a touch of elegance to your vault with custom jewelry trays from Sportsman.
Call for a free consultation - 800-266-7150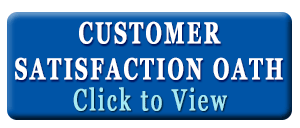 6000 Degree Concrete Fireboard Fire System

Option - $199-$599

2 Layers of UL 5/8" fire liner on six sides and door
6000 Degree Concrete Fireboard on six walls & door
2 Palusol® Expandable Door Gaskets that expand to seven times their original size
2" Jig-Saw Step System Door -
4-Point Seal - Like a commercial-grade safe




Call for Quote - 800 266 7150







Many Interiors to Choose from

Configurable Interiors
6 to 15 Gun Capacity


Custom Gun Racks Available
Anyway You Want!

100% Adjustable Shelves
"Double Gun Racks"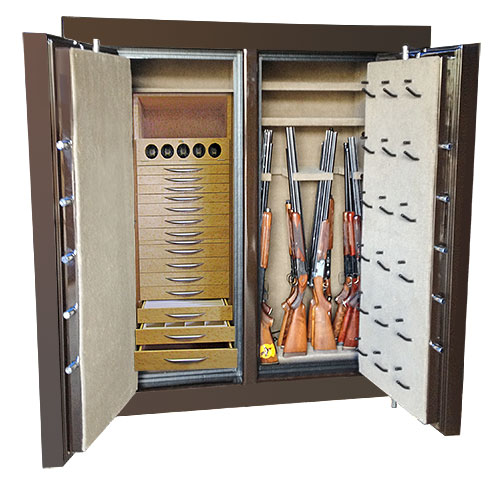 Call Us For Custom Interiors
Store Your Pistols on the Door -
Ask Your Salesman For Pricing
SPECIAL AGENT MODEL



Special Agent - "C"
60"x22"x18" | 6-12 Gun with Shelves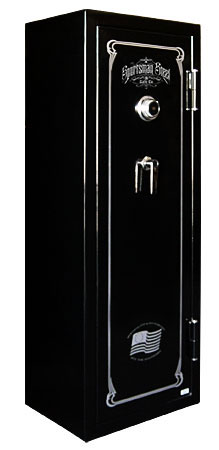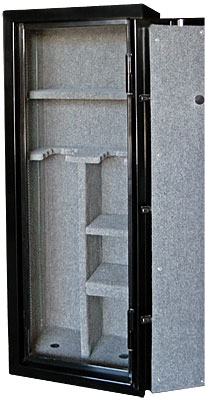 Convertible Interior - Side Shelves
Special Price - $699

100% Adjustable Shelves
"Double Gun Racks"

10 Top & Bottom Bolts -


FREE THIS MONTH!
SPECIAL AGENTS GUN SAFE - MONTHLY SPECIALS
Agent C
60"x22"x18" - 1 1/2" Composite Door - 6-12 Guns - 40 min - Matte Black Finish -
400 lbs
$699
Agent C
60"x22"x18" - 1 1/2" Composite Door - 6-16 Guns - 40 min -
400 lbs -
$799
THE SERGEANT Gun Safe Pricing
60"x25"x22"
S - 1

1/8" Steel Body - 30 MIN FIRE - 1/4" Door, 1/2" Steel Frame, 10 Bolt System - 450LBS

$799

S - 2

1" Jig-Saw Door - 60 MIN FIRE - 2 Expandable Gaskets, 3/4" Steel Frame - 550LBS

$1099

S - 3

2" Jig-Saw Door - 80 MIN FIRE - Double Relockers, 12 Top & Bottom Bolts - 725LBS

$1399

Sergeant -
Iron-American Series

60"x27"x28"

-

2 HR Fire - 3" Jig-Saw Door, 8-Layer Fire System - SEE IRON AMERICAN PAGE - BEST GUN SAFE IN USA - 1450lbs

$2995
*1/4" Steel Body Package $449 - Comes with 1" Hardplate with 2 Barrel Relockers
*Please note. Gun capacity may vary depending on internal configuration and type of rifles or shotguns being stored.

Back to top