Why Sportsman has the Best Gun Safe.
6000 DEGREE MAGNESIUM FIREBOARD. 99% of gun safes have inexpensive drywall for fireproofing. Drywall isn't a reflective material and can't last in fires with extreme temperatures. Our gun safes can be ordered with 6000 Mag Board, which holds back heat. We have never lost a gun safe to fire with 6000 Degree Magnesium Board. Call a Salesmen to discuss.

2" JIG SAW STEP DOORS. Other Gun Safes have flat surface doors. The doors rattle and only seal on one level. Our "Step Doors" are built like bank vaults and commercial grade safes. Our Step Doors fit into "Female Step Frames" and seal your gun safe on four levels.


DOUBLE EXPANDABLE GASKETS. Our two gaskets expand and seal your door on four levels. It's the most airtight-waterproof gun safe EVER!


1/4" STEEL BODIES. Our Iron-American gun safes are USA. Most gun safes have 1/8" steel walls. Our premium 1/4" gun safes are twice as thick as a conventional gun safe.


TWO RELOCKERS. We have two spring-loaded relockers in your gun safe and vault door. One is a brass-arm relocker and one independent cobra relocker. Plus, we have 1/2" hardplate that protects both! Many gun safes only have one relocker! We've never had a door drilled open in over 35 years!!!


SUPERIOR INTERNAL MECHANISMS. Due to our unique bolt work, Sportsman Steel Gun Safes have NEVER BEEN DRILLED OPEN IN OVER 35 YEARS. We manufacture real safes, not cheap gun safes!

Sportsman's Life Time Warranty. If it breaks, we'll fix it for free. If your safe goes through a fire, we'll give you a new safe for free. It's that simple. Over 35 years in business and Sportsman Steel Safes is still going strong. And so is our life time warranty! Call one of our Safe and Vault Door Experts and we'll explain our Life Time Warranty and Extended service packages.


WHY ARE OUR GUN SAFES THE BEST BUT INEXPENSIVE...? - Because we cut out the middleman! Most gun safes are sold through middlemen. These gun safes are marked up and with lower quality. For over 35 years our gun safes have been sold factory-direct so we can offer you the highest quality and good prices.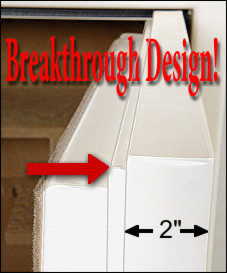 2" JIG-SAW DOOR - OUR MOST FIRE-PROOF GUN SAFE!
2300 DEGREE FIRE-PROOFING!
AMERICAN MADE GUN SAFES AVAILABLE!
GUN SAFE SURVEY - RATED #1
FACTORY DIRECT- BEST PRICE GUN SAFE ON THE INTERNET!

NO ONE BEATS OUR PRICES. NO ONE HAS OUR QUALITY.
"Call us for a free quote!"
1-800-266-7150

Back to top