Sportsman Steel Safes Testimonials & Review
Satisfied Customers Around the World
GUN SAFE REVIEWS

In the 1990's two Gun Safe Reviews where performed by Gun Test Magazine. They rated the most popular gun safes in the USA. They grouped the gun safes into four categories. Four of Sportsman Steel Safes were rated in the top two categories! That was more than any other gun safe in the industry! We attributed these top rankings to our 1/4" bodies, press-broken steel and heavy-duty 3/8" pry-resistant doors.
TESTIMONIALS from SPORTSMAN SAFE CUSTOMERS


"Thank you very much for your help. I purchased my safe eight years ago
and I'm very glad your customer service is still good." - D. Eddy
"Thanks for the superlative service after the sale for helping me get my safe repaired. I appreciate you hiring an extremely competent safe tech to help me with my safe. It now operates better than I ever imaged a safe could function."

Larry C.
Sunnyvale, CA
---
"Thank you and your great team of customer service, (Ernie ,Fernando, Chris). I am very anxious to get the "Pentagon" in place. I will call you when it arrives and place an order for your dehumidifier."

Thanks again.
Don H.
Gig Harbor, WA
---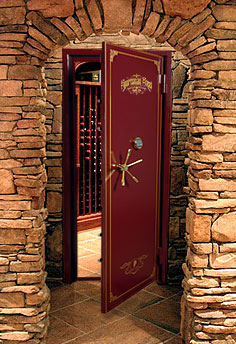 "My Pyro model safe is excellent quality and easy to open. Secure closet installation. Very satisfied with service. Congratulations you guys for doing a great job in a timely manner. Really appreciated the follow up and will refer you to family and friends."

E. Otterman
---
"I have a Sportsman Safe and I love it!" -

B.P., Oconomowoc, Wisconsin
---
"I am very happy with the vault door and the performance. Thank you..."

Dr. Jerry Harris
---
"I had the 7x8x8 two piece safe room delivered to me on flat bed. We got it the house and I took some pics of it for u guys to post or put on the web site of what have u . Please tell Kevin hand that pleased with the product and I will send more pics when the house is fully built and the safe is walled up in my closet." - G.M., Alabama
---
"It's been a year since I purchased my Sportsman Steel Safe and I have to thank you... The safe was everything you said it would be! I've been recommending Sportsman-Pentagon Safes to all my friends." -- Diversified Threat Management
---
"Thank You for your excellent service, timely responses and an excellent product. My Iron American Series gun safe is in my opinion the most secure safe on the market. You have an advocate for your company for life!!" -- J. M.
---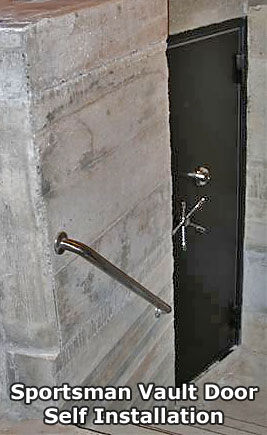 I ordered and installed your vault door myself.
I am very satisfied with the door. I have recommended your door to others. Thank You M.A
---
"I had one of your safes from 2003. Was the 60 x 25 x22 with 1 hr fire. The gun safe was within 10 ft of point of origin of fire. It took three hours or more to put out fire and the guns took no damage.... I was very impressed with performance of safe." -- Jeff James, Customer & Fire Fighter
---
"Again outstanding, exceptional service. You have a customer for life. As a matter of fact all I did was boast about your customer service at my local gun show this weekend here in St. Augustine. I am one of a very few NRA firearms instructors in this part of the state and I will be sure to direct any of the individuals taking my firearms class to your website. Regards J.M."
---
My brother and I do not live close, but we talk regularly. We both found ourselves in need of a good safe for firearms and other valuables and discussed the plethora available on line and in local stores. We started with the familiar names, but it seemed they were all very similar when you got down to the true measures - fire resistance, difficulty in "cracking and thickness of steel. But as we continued our search we found a few that were truly American made (not just assembled or painted) and of much higher quality.

The search ended when I called and my brother and I had independently picked Sportsman Steel Safes. To get a similar quality, American made safe one had to look at the top of the line of the more advertised safes, and their price was, much higher. We agreed and Mike placed the order. We got a fair deal, and waited for the safes to be delivered. Mike's arrived first and it was superb. Fit, finish of the inside and outside but most importantly of the door were perfect.

Mine was "delayed" in shipment, but arrived a week later. Since I had to move it inside my home, I contacted a mover. He requested I keep it in the shipping carton until his crew arrived as they might want to move while still packaged for shipping. When they arrived, they removed the packaging and discovered damage from a "fork" of a forklift.

This is when Sportsman Steel shined. On my first call to the company, their response was - "if it is damaged we will send you another safe". They were as good as their word. I got my new safe today - and I am very impressed all over again.

I am a very satisfied customer.


Karl Buchberger
---
I love my safe!!!! It is just perfect for my space and my treasures!!! Your help was wonderful and I know I will enjoy knowing my things are safe.

Thank You Again,

Dianne A. Robinson
---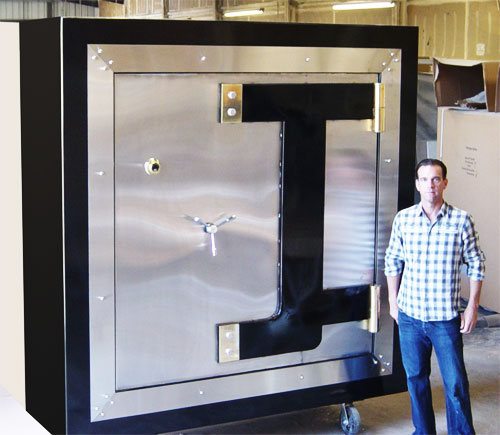 Just wanted to drop you a line and let you know I received my gun safe. I also wanted to thank you for being understandable with all of my calls and keeping me informed and updated on the status of completion and delivery timelines.

Thanks,

Jim Carlisle
Benson, Arizona
---
Hello to you both from wet South Australia,
We had 62mm of rain yesterday.
Now apologies for not getting back to you sooner...
The safe door is fantastic, just like in the movies...
We have not put it into place yet, but it is fantastic
Thank you very, very much.
When the door is in place we will send photos.

Thanks again

Mick & Lyn
---
I wish to thank you for having the rifle shelf for the right side of my Sargent Commemorative Safe made and sent to me at my request.

You and the Sportsman Steel Safe Co. have gone above and beyond your expected obligation. This is the kind of Service that leads a person to refer others to buy your product, and it tells a lot about your Company and its ownership.

Thanks, a satisfied customer

Bill Myler
---
I love my new Pentagon safe which you delivered to me last week. The delivery was as expected and extremely professional. The entire transaction was a pleasant experience and I hope to do business with you folks again."
Russ W.
Lewisville, NC
---
"My gun safe is everything you said it would be!! Thanks for pointing me in the right direction so I could make the right decision."

John C.
---
Kevin,

I purchased my custom "swing-in" gun safe from you over the phone in 2008.

The idea was to have a walk in safe hidden in the entry closet of this old duck cabin built in 1919. I wanted to thank you because everything I was told over the phone became true and I now have a secure walk in gun safe and security/tornado structure. I get lots of compliments from hunting friends regarding the quality and finishing touches.

Anyone interested in getting extra value for a few extra dollars can end up with a special security area and wonderful gun storage.

Brad G
Lake Christina, Minnesota
---
Hi Kevin,

I want to thank you for your service and the great deal you made me. I am a three time buyer of Sportsman Steel Safes and with deals like you guys offer, why would anyone go elsewhere? -- Thanks again and best regards,

Scott Eddy, Bullhead City, Arizona
---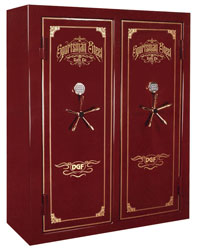 "...Thank you for the call yesterday. I stopped by the local gun stores to look at gun safes... I couldn't find one with a [protective] frame thicker than 3/16". I'll be in touch when my vault room is ready for a door!

Rick H, New Mexico
---
"I will go out of my way to do business with this Sportsman Steel Safes. I strongly recommend them to others.

I live in a 3 story condo. When I got my safe, I wanted it in a 3rd floor closet. The crew that did the installation demonstrated attention to detail and pride in their work. They delivered the safe and wiped dust off of the safe. Even the BACK, which was against the wall and would never be seen! Those small things that showed they cared about doing the job *right*.

Colin Powell said, "Excellence is not an exception; it is a prevailing attitude." The installation crew from Sportsman Steel demonstrated that prevailing attitude, earning them a spot on my Whitelist."

Christopher K
---
Kevin,
I just wanted to say thanks to you and your company for the great service and a wonderful product. I shopped around the country for a vault door that met my needs at a price that I was willing to pay but one of my main concerns were that my hard earned dollars were being spent with an American company on an American made product.

Although I live in an area where there are two nationally known vault / safe company's nearby, I chose your company even though their vault was comparably priced, I am a true believer in the saying, "You get what you pay for." Their stuff comes mostly from China , which is not a country I care to invest in.

You worked with me to come up with a vault door that I wanted to buy and you added a few nice touches to the deal to make sure that I was satisfied with my purchase. You custom built my door to fit my existing opening and when I received the door I was worried that it would not fit. It fit perfectly and is now a great addition to the safety and security of my family and valuables. I called you and explained that during shipping, the carpet and two of the expandable gaskets were slightly damaged, a few days later new carpet and gaskets arrived at my door. "You get what you pay for."

Having been a Police Officer for the last twenty two years I have had many sad occasions to witness the life altering trauma caused by criminals and fire and this vault gives me great peace of mind. I know that while I'm out, away from my home, catching crooks, my family and valuables are safer now. I now leave my home knowing that my most cherished belongings are safe from thieves and fire and that in the event of a burglary, my family can use the vault as a safe / panic room.

Once again, thanks for your willingness to go the extra mile to get my business and to make sure that I was satisfied with my vault and thank you for patronizing American business for your raw materials.
William Rogers - Texas
---
Howdy Guys!! I just purchased a Commemorative Pentagon 100-Gun Safe and I love it!!! Thanks for the help.
Ryan M - Wilmington, NC
---
"Sportsman Steel and Kevin , I am extremely happy with my new gun safe & your company. The quality of the safe is excellent, the features are great & you delivered it on time as promised. I also appreciate that you helped me select the options that were best for me. I will be sure to recommend your company to my friends & anyone else who needs a top quality safe."
Mike - New York
Feel free to browse the links to learn more about gun safes, fireproof safes, vault doors and other safes for your home or office. Require additional information? Please call us toll free at: 1-800-266-7150.
---
NO ONE BEATS OUR PRICES. NO ONE HAS OUR QUALITY.
"Call us for a free quote!"
1-800-266-7150

Back to top