Are you building an weapon's armory? If you're interested in high density weapon storage, our tactical storage panels are the perfect solution. Whether you're building an armory for the military, a government agency or your personal firearms collection, our tactical panel allows you to add, subtract or move gun storage accessories as you see fit. Call our Weapons Storage Experts to get a quote on your safe room interior today.
Secure-It Weapon Storage - Watch Video
Click image above to watch video.
Tactical Interiors - Our new custom interiors can be specially designed for your weapons. Pistols, magazines, scoped weapons can now be placed on your door to utilize your space fully. Call for custom interior packages on sale today. $149 and up.
Listed here are some of our most popular options. We can customize your Safe, Vault Door or Storm Shelter Safe Room in virtually any configuration.
Please call to talk with one of our experts: 800-266-7150.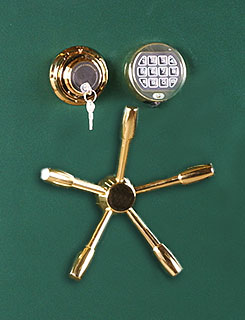 DEFENDER™ DUAL LOCKING SYSTEM - Defender™ Dual Locking System secures your safe with a double locking system that allows twice as much strength while incorporating split second accessibility. For those of you who use your safe a lot, the DEFENDER™ makes getting in your safe easy and pleasurable. - $399.00

FIVE-PRONG SPINDLE WHEEL - removable:The five prong spindle wheel makes it a pleasure to open your safe with bank-vault-like ease. The plating comes in chrome with 24-Karat gold option. The spindle shoots you back in time to the days of the Old West. - $79 - Life Warranty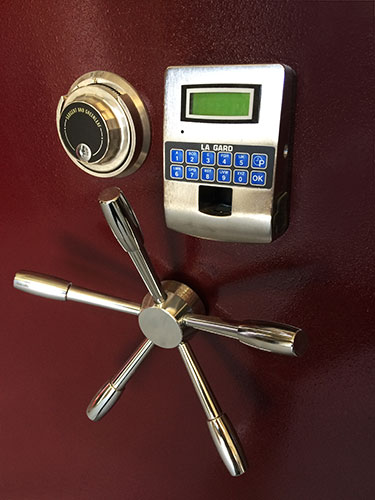 DUAL REDUNDANT LOCKING SYSTEM

This dual back-up locking system is for the safe owner who wants the ease of opening a digital lock, but also wants a reliable combination lock that can open your safe if the electronic lock failing. It's very popular with government agencies and it's on sale for $695.

(Click image to enlarge.)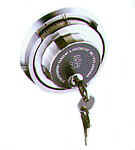 SARGENT & GREENLEAF SPY-PROOF LOCKS - These precision locks are available as an option on all Sportsman safes. It's spy-proof dial makes it impossible for peeking bystanders to glimpse at the combination. The Sargent & Greenleaf locks come exclusively with excellent mechanical relocking devices and dial lock with key. The Spy-Proof lock is the #1 ranked lock in the gun safe industry and the commercial safe industry as well. Don't buy a safe without one. - $79 - Life Warranty



DIGITAL LOCK BY LA GARD® American Made - Our digital locks are on the cutting edge in protection and for those who enjoy hi-tech accessibility. They have many custom features which are too numerous to list. If you choose the Sargent & Greenleaf Digital Lock, you won't be disappointed. - $179.00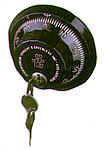 STANDARD SARGENT & GREENLEAF LOCK - This high-quality Sargent & Greenleaf lock comes standard on all safes. (Key lock optional).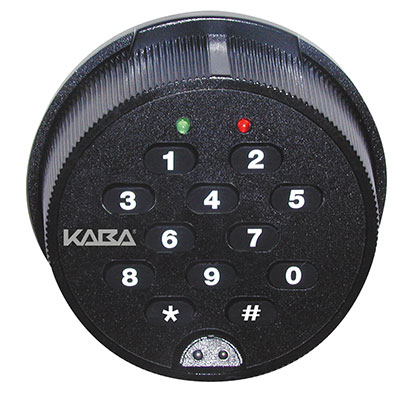 Self-Generating Kinetic Energy Lock

Price - $449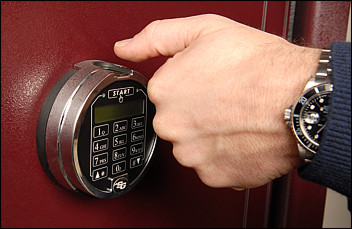 S & G Biometric Lock - Group I

This premium Group I American-made lock reads your fingerprint! Just fit your thumb on the "Print Pad" and enter your vault in split-seconds. You can program up to 7 fingerprints & comes with a lifetime warranty. -- $479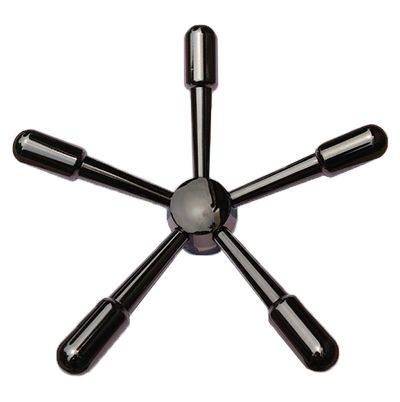 Deluxe Black Chrome Plating
Handle, Lock & Pin-stripe - $195
18-PIN CROWN™ - The 18-Pin CROWN™ SYSTEM secures your door with two top and bottom pins with additional 14 l0-inch long side pins. The 8-pin CROWN™ SYSTEM makes your door 50% stronger, and buys piece of mind you can't put a price on. - $195.00
GUN RACK AND AMMO BOX - Use your safe's full potential by putting your pistols on the door. Each hook has a circular weld that can hold up to 100 lbs. guaranteed. Many other companies put handgun knobs on particle board that easily break. Our construction is 10 times stronger and at a similar cost. - $139.00 - $159.00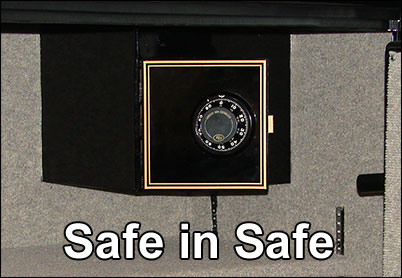 SAFE IN A SAFE - 1/4" Steel Body. Designed to provide that extra added measure of security for those special items. The Sportsman "Safe In A Safe" is equipped with a Sargent & Greenleaf® lock with internal relocks, and is manufactured out of heavy gauge steel. It makes your Sportsman Steel Safe a real one of a kind! - $450.00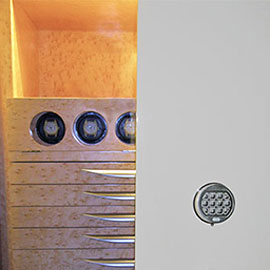 Lighting Package - Let there be light. Illuminate your rifles and belongings with flexible lighting or our new LED lighting package. This package comes with a toggle switch with internal brackets that hide your lights in our door frames.
CHAIN REACTION RELOCKERS - Most vault doors have one relocking device! Sportsman Vaults are the first to offer a Multi-Relocking system found on $50,000 vault doors. This hi-tech door consists of three independent spring-loaded relockers and a brass-arm relocker. All four relockers are protected by 60-RW hardplate. The heavy-duty locking bar is cradled by additional steel to prevent vital cut entry. It's the only relocking system that can keep out a professional Safe Cracker. ONLY $399

NEW! - 4 Barrel Re-Lockers - Most in Industry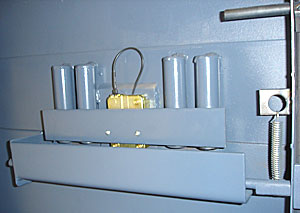 4 Re-Lockers - 1 1/4" x 5" Solid Steel
Spring-Loaded - Totally Independent
5 Drill Points in Door - Most Ever!
Multiple Level Re-Lockers - No Drill-Outs in 35 Years
Gravity-Resistant - Rack-Style Lock-up
American Made System - Custom Drill Points Available
This commercial grade 4-Barrel Relocking System is similar to Re-Lockers found in $20,000 Vault Doors. Equipped with four 1" thick barrel Re-Lockers, this hi-tech backup system is spring-loaded to shoot 4 - 3/4" hardened shafts into female bolt work during attacks! Once the lock is punched, four spring-loaded barrels lock your door in five separate locations. Since the relocking bolts are 5" long, a safecracker would have to drill your door 20 times to defeat this mechanism! It's never been done! Other standard components of our 4-B relocking system: 1" 60 Rockwell hardplate, Shark-Tooth Female-bolt work, Rear-Protector plates and extra long relocker bolts.

NEW! Stainless Steel Shell - "It's Torch-Resistant!"
Forget about that old adage "You can crack any safe with enough time". With our new Stainless Steel Shell, torching our safe open is close to impossible. Torch-resistant stainless steel is continuously heliarc welded on all six sides of your safe. If a safe cracker tries to use a torch to compromise your safe, the flames will spit right back at him. Construction like this only comes on commercial safes over $10,000. But at Sportsman-Pentagon Safes you get a special factory-direct price. Stainless available - 1/4" - 1/8". Call for quote.
| | |
| --- | --- |
| Stainless Steel Shell - "It's Torch-Resistant!" | Stainless Steel Shell - "It's Torch-Resistant!" |
NEW - Nuclear, Biological, Chemical Sealing System - It's Airtight!
Our new N.B.C. Compress Seals make your vault room Nuclear, Biological & Chemical resistant. We include N.B.C. seals on your 3" Step System Door and Frame. We also continuously weld every inch of your vault, frame & seams to make your vault door N.B.C. resistant. Continuous welds also run along your internal steel panels and atop your lock hole that connects your external lock to our internal mechanism. We can even include an NBC resistant "lunch pail" over your lock to make your complete locking system NBC resistant! - ONLY $1999 - $2499.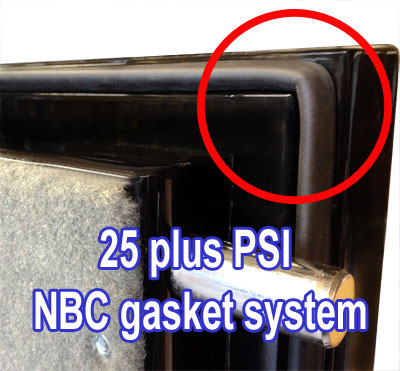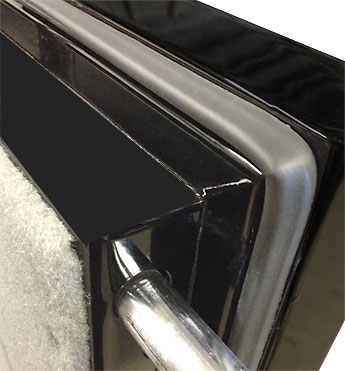 Concrete fireproofing - 4 x more fire resistant than fire board

$199-$599

2 Layers of UL 5/8" fire liner on six sides & door
Concrete fireproofing - 4 x more fire resistant than fire board
2 Palusol® Expandable Door Gaskets that expand to seven times their original size
2" Jig-Saw Step System Door -
4-Point Seal - Like a commercial-grade safe




Call for Details - 800 266 7150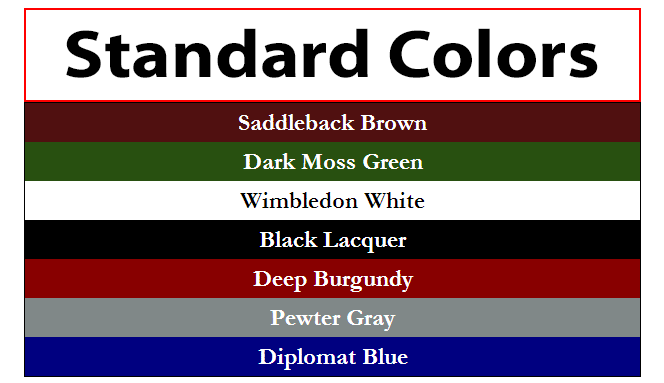 Carpet - Color Chart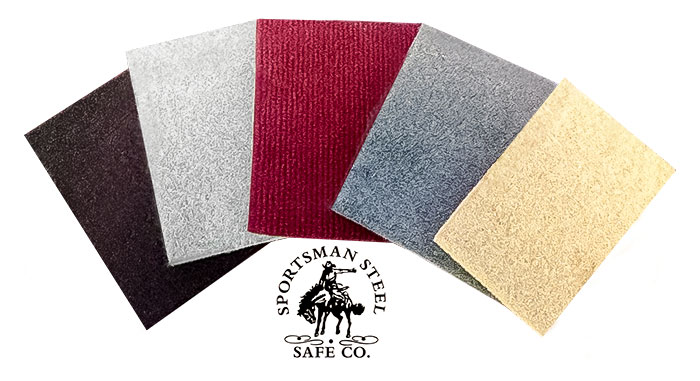 Charcoal | Light Gray | Burgundy |Dark gray | Tan
Interiors
CALL TO TALK WITH ONE OF OUR EXPERTS. 1-800-266-7150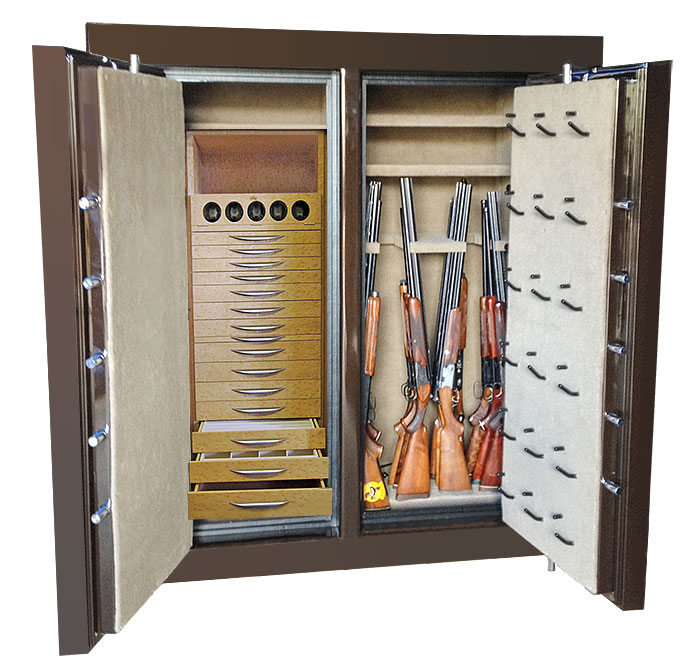 Our custom gun safe interiors can be designed with any layout. We specialize in custom gun racks for oversized weapons with scopes. Jewelry drawers and trays can be added for factory direct price. New tactical doors are available that can hold ammo, pistols and rifles to your doors. Call us for questions and pricing.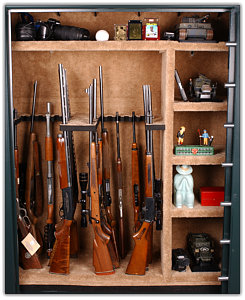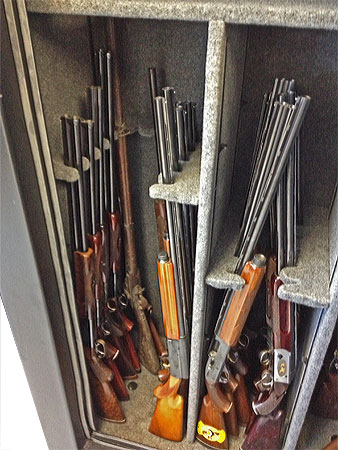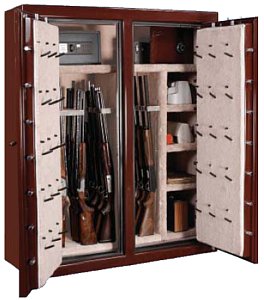 Custom Gun Racks Available - Anyway You Want - Call for Quote
.
Store Your Pistols on the Door -
Ask Your Salesman For Pricing


Add custom pistol holders to your safe door.

Call for more information and free quote:
800-266-7150




EASY-OUT - EASY ACCESS INTERIOR are designed for easy accessibility while still utilizing space efficiently. The easy access interior is all hand crafted and eliminates the inconvenience of having to move front guns to get to rear guns. The U-Shaped gun racks are custom built for scopes, non-scopes or a combination of both.

Sportsman Steel realizes that selection of your interior is one of the most important decisions in purchasing a safe. This is why we have the largest selection in America. Our safe's interiors are designed to maximize your long gun storage while accommodating space for cameras, pistols, and other valuables on top and side shelves.

RIFLEMAN™ - these premium interiors are for those who love lots of guns. The RIFLEMAN'" comes with a full gun rack and can accommodate between 30 to 60 long guns. Top shelf and carpeted floor come standard with the RIFLEMAN™ interior.

COLLECTORS™ - the exquisite C0LLECTOR™ interiors are for the sportsmen who have many valuables to protect besides guns, Five side shelves give plenty of room for pistols, fishing reels, cameras, and other important documents. Gun racks accommodate between 6 to 36 long guns.

PRESIDENTIAL™ - interiors are for those who want the absolute best protection and aesthetics available. They come custom with all-steel walls covered by beautiful plush carpet. EASY-ACCESS gun racks are included in the price as well as carpeted side and back walls. Carpeting your safe dramatically reduces the risk of damage to your priceless guns and collectibles.

Ask for Other Interiors Available

Rantec Dehumidifier If you plan on passing down your guns from generation to generation, you'll need an internal safe climate to stand the test of time. A dehumidifier keeps your firearms in pristine condition for years to come.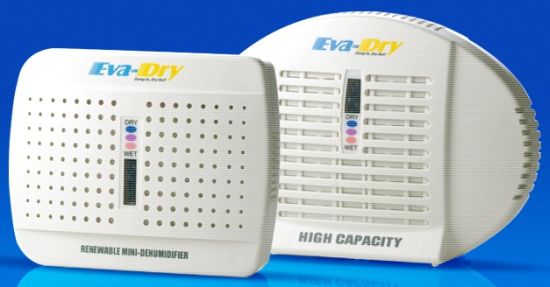 Wireless Dehumidifying Dryers -- bigger photo - "Our new dryers contain super-charged desiccant tablets that absorb moisture and store it. They don't require electricity so accidently fires are an impossibility. We suggest two per safe for maximum protections -- $79 for a pair.

Lighting Package
Let there be light. Illuminate your rifles and belongings with flexible lighting or our new LED lighting package. This package comes with a toggle switch with internal brackets that hide your lights in our door frames.
---
NO ONE BEATS OUR PRICES. NO ONE HAS OUR QUALITY.
"Call us for a free quote!"
CALL 1-888-681-4140

Back to top