SAFE ROOMS & PANIC ROOMS
Survivalist Shelters For Catastrophes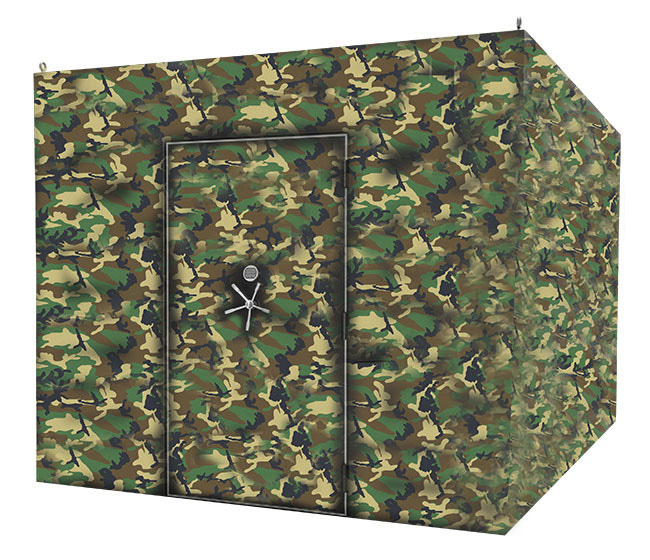 Survival Shelter Standard Features

3/4" Steel Frame
Protects from Prying

1/4" U-Shaped Reinforcements
Supports Structure from Storms or Tornados

Vertical 1/4" Posts
Supports Ceiling

3" Jig-Saw Step Door
3 Layer Steel
Survivalist Shelter Standard Options
1/4" AR-500 Ballistic Steel Body & Door - Bullet-Proof (available in 1/2")
Steel Box Protecting Lock - Quick-Access
U-Shaped Blast Resistors in Walls - Protects Occupants if House Collapses
3/4" Steel Frames - Protects Against Pry-Ins
Panic Room Handle - Internal Release
Rifle Slots - Return Fire Self-Protection
30-120 Day Food Supply - USA Products
Custom Interior - 100 Long Guns with Shelves
Bolt-Down Feature - Doubles as a Storm Shelter
18 Door Bolts - DOJ & FEMA Compliant
1" Hardplate in Door - 60 Rockwell Rating
USA Made - 20 Point Inspection on all Rooms
3/4" Steel Frame in Door - Anti-Pry Feature
4 Relockers in Door - 1" x 5" solid Steel
100% Adjustable Tracking - Shelves & Gun Racks
LIfeTime Warranty - On lock and Shelter
Survival Shelter - Options Available
Call for Pricing
1/2" AR-500 Ballistic Booth In Shelter - Stops 99% of Rounds
EMP Protection - Faraday Protection
Radiation & Blast Protection
Nuclear Biological Chemical Seals & Air Filtration system
Tactical Workbench - Work Table & Gun Cleaning Platform
Gallow Gun Interior - 2HR Fireproofing
Air Ventilation - 2 Intake, 2 Exhaust - Carbon Monoxide Detection
Escape Hatch for Emergency Exit
LED Interior Lighting
Telephone, Radio & Intercom Communication
T.V./DVD/Radio Center
Static Water Storage - 250 - Gallon Barrel
Freeze-Dried and Dehydrated Food Storage
Power System: Battery Backup system with Inverter
Charge Controller, Battery Bank - (PV Panels for Solar Charging)
Counter, Sink, cabinets, Refrigerator, Microwave
Murphy Bed: 3 double-Wide - Accommodates 6 Adults
Portable Heater W/ Portable Fan
Wall & Floor Mounted Gun Racks - Pistol Hanger
Executive Interior - Dark Wood, Black or Stone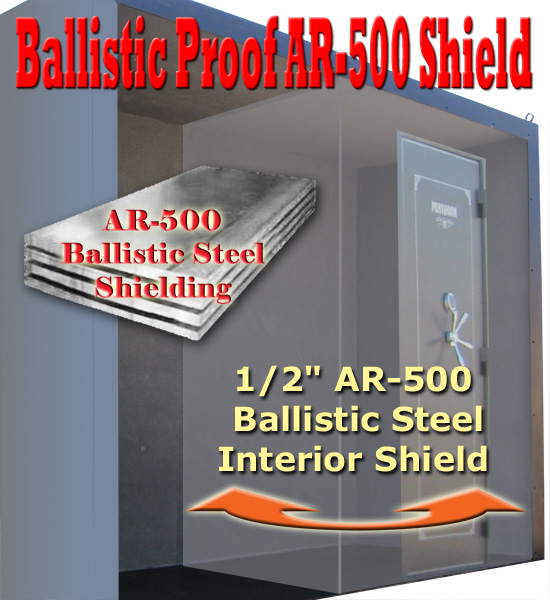 NEW! Ballistic Proof AR-500 Shield

Our Survival Shelters have a ballistic corner that shields occupants from 99% of small arms fire. The interior shield is manufactured from 1/2" AR-500 ballistic steel. Once a Survivalist climbs behind our bullet-resistant shield their probability for survival increases 10 fold. It's the perfect option for colleges, residents and businesses that may come under fire during an attack.
THE TACTICAL SURVIVAL SHELTER
By Sportsman Steel Safe Company & T.C.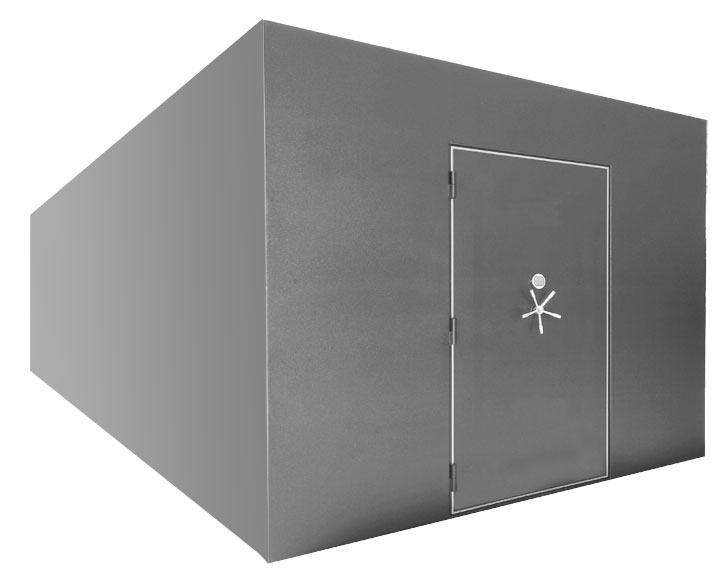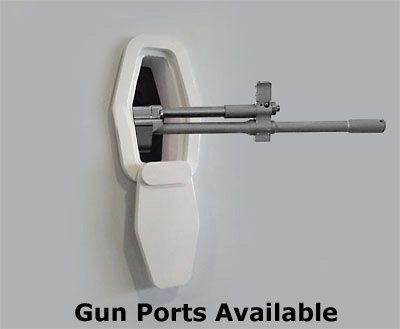 For the Tactical Survival Shelter, Sportsman Steel Safe Company has taken its unique shelter design and custom retrofitted it with accessories and tactical features that are specifically suited for an individual that would like a turn-key survival shelter installed in his home. The shelter also doubles as the ultimate tactical "man-cave," specifically catering to firearms enthusiasts. If James Bond were to select a ready-to-go safe room for his home, this would be the one.

This pre-fabricated shelter is designed for new home construction, in which it can be placed in the basement (or under the garage floor slab) in the early phase of construction without the normal installation obstacles (such as existing walls, narrow doorway entrances, etc). The shelter will be delivered to an individual's property with everything pre-assembled, utilizing proper OPSEC during installation.

The interior of the shelter is truly distinguishing and appealing to the eye, while incorporating top of the line accessories and equipment that are ideal for preparedness-oriented individuals. Some of the standard features of the shelter include the following:

Mega Safe Room 20 to 30 Person Capacity


Internal Release
'Easy Exit System'
Safe Room N. B. C. Sealing System - It's Airtight!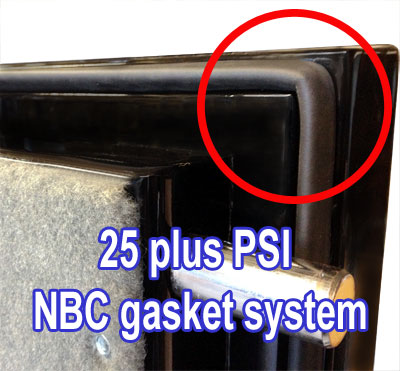 Our new N.B.C. Compression Seals make your Safe Room Shelter - Nuclear, Biological & Chemical resistant. We include N.B.C. seals on your 3" Step System Door and Frame. We also continuously weld every inch of your vault, frame & seams to make your vault door N.B.C. resistant. Continuous welds also run along your internal steel panels and atop your lock hole that connects your external lock to our internal mechanism. We can even include an NBC resistant "lunch pail" over your lock to make your complete locking system NBC resistant! - ONLY $1999 - $2499.


Talk to a Safe Room Expert: 800-266-7150
We Ship Our American Made Safety Shelters All Over the USA - By Flatbed



Safe Room Delivery to Home, Office or Business


Custom Size Survival Shelters


Call for Quote - 800 266 7150


American Made Safe Rooms
with Bolt-Down Construction
American Made Survival Shelters and Safe Rooms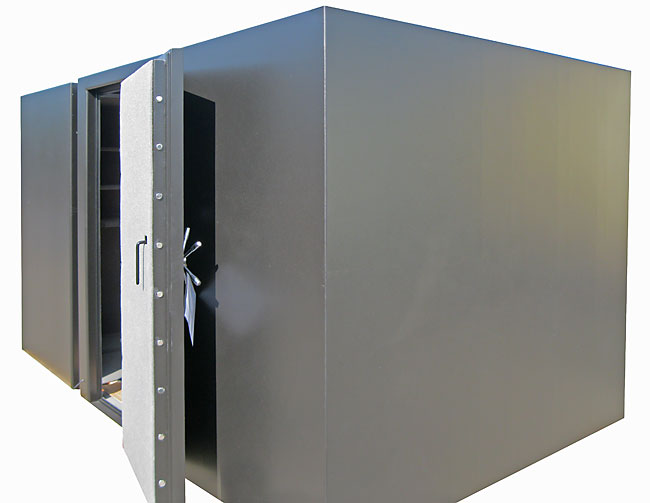 Modular Construction for Easy Assembly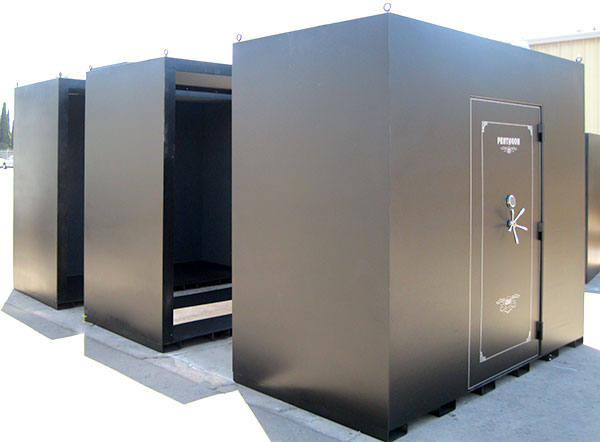 Standard Safe Room Configurations Can Accommodate 2 to 12 Persons.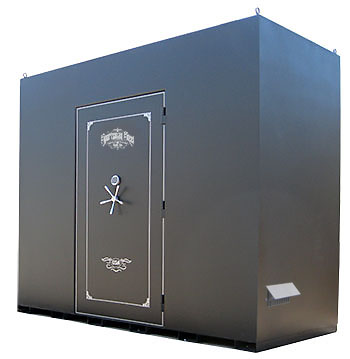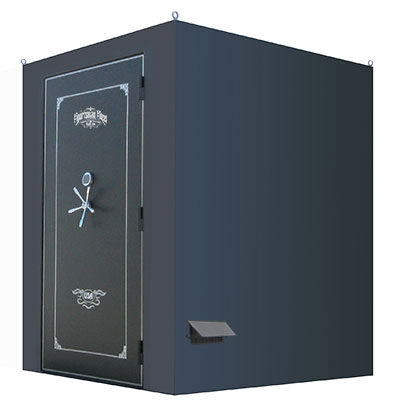 Custom Survival Shelters Available - CALL 800-266-7150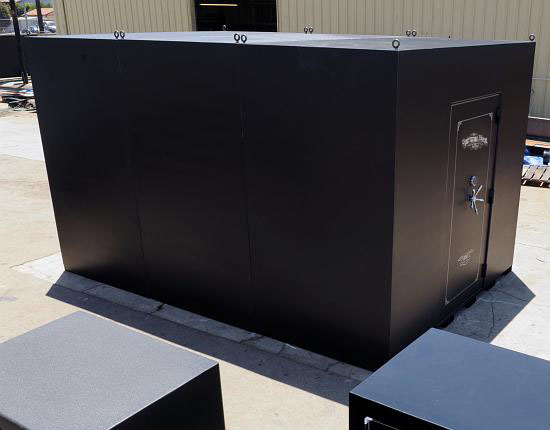 Sportsman Safe Room & Panic Rooms undergo a 22 Point Quality Inspection Prior to Shipping
NEW!
CUSTOM HYDRAULIC SAFE ROOM
HATCH DOOR LIFT

Custom Actuator Arm - Various Lengths Available


1300 - 2000lbs Capacity - Higher Weights Available


Electrically - Operated by 110 or 12 Volt Battery


Inner and Outer Control Switches Available


Internal Release For Panic Room


Totally Installed to Vault Door - Ready to Use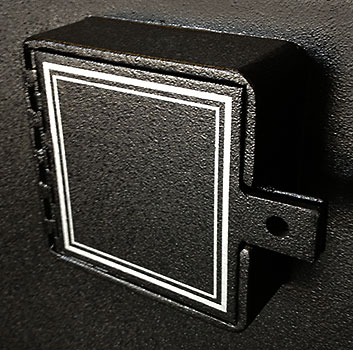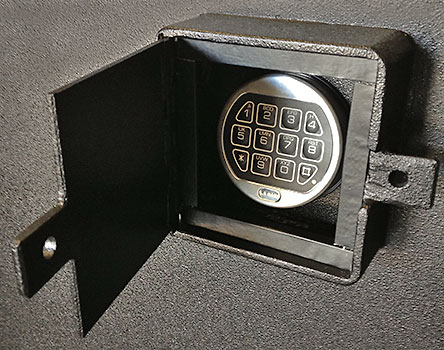 Steel Box Protecting Lock - Set for Emergency Quick-Access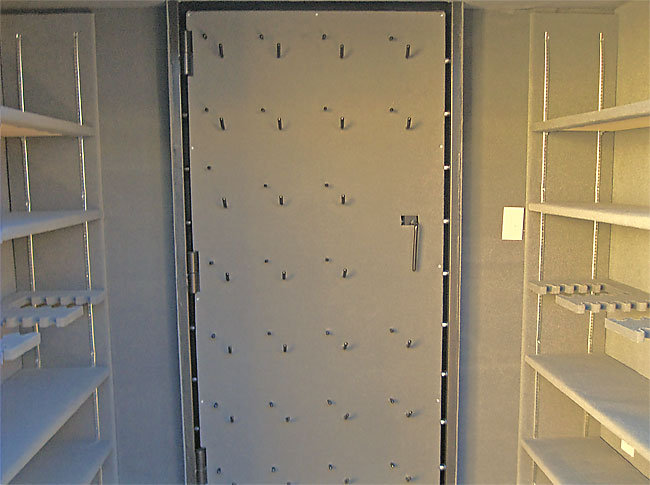 Custom Design Your Shelter Interior. Fully Configurable to Your Specific Requirements.
Custom Outfit Your Shelter
| | | |
| --- | --- | --- |
| Food storage systems | Fresh Water Supply | Self contained toilets |
| Self powered generator | Nuclear Alert Detector | Air Filtration Systems |
Safe Room & Panic Room - Basic Prices

Survival Shelter I
7' x 8' x 4' - 1/4" Body, 2" Step Door, Ballistic Proof AR-500 Interior Shield - 2 Person Capacity
$8995
Survival Shelter 2
7' x 8' x 8' - 1/4" Body, 2" Step Door, Ballistic Proof AR-500 Interior Shield - 4 Person Capacity
$15,995
Survival Shelter 3
7' x 8' x 12' - 1/4" Body, 2" Step Door, Ballistic Proof AR-500 Interior Shield - 8 Person Capacity
$22,995
Survival Shelter 4
7' x 8' x 16' - 1/4" Body, 2" Step Door, Ballistic Proof AR-500 Interior Shield - 12 Person Capacity
$32,895
We Customize Survival Shelters Any Size


Call for More Information and Free Quote - 800-266-7150
Our Clients: FBI, CIA, Homeland Security, U.S. Secret Service,
The Smithsonian, DEA, ATF, Quantico & 100's of U.S. Police Departments.
Call us with any questions about building any type of survival shelter. (800) 266-7150
NO ONE BEATS OUR PRICES - NO ONE HAS OUR QUALITY.

"Call us for a free quote!"

CALL 1-800-266-7150

Back to top
All Sportsman Steel & Pentagon Vault designs belong solely to Sportsman Steel, Inc. and are not subject to replicating for personal fabrication. If you have a company or are an individual who would like to license our designs call our legal team for a licensing agreement - 562-984-5445.