FIREPROOF GUN SAFES

The NEW 2" Jig-Saw Door!

Our Jig-Saw Doors are 2" thick and constructed with heavy-duty Step-Systems on the door and frame. When shut, the door and body fits together like a jig-saw, giving your gun safe and vault door a four point seal. Our Jig-Saw Doors are the most airtight doors in the gun safe and vault door industry!

Remember, Sportsman Steel offers American made gun safes. Our steel doors, expandable gaskets, 2" Step-System doors, S & G Locks & Cobra relockers.

2" and 1" Jig-Saw Door
Options Available

Jig-Saw Doors have two expandable gaskets! This is important, because during a fire our competitor's gasket only seal on ONE POINT. This allows hot air in your gun safe. Not a Jig-Saw Door. Two Palusol® Expandable gaskets seal your safe on FOUR POINTS; where the door fits into the frame.

This is the kind of COMMITMENT to quality that keeps Sportsman Steel Safes regarded the best gun safe in the industry.

---

IMPORTANT WARNING
Misconceptions About Fire Protection

Double Wall Safe Trap
Other companies sell double wall safes at astronomical prices ($150 up to $300). They consist of drywall and felt, which is only $6.00 worth of materials.

4-Wall Fire Board Trap
These safes are only equipped with two layers of treated drywall. The material in these safes is $30.00 tops, yet they sell for $399.95.

SPORTSMAN PYRO™
Concrete fireproofing -
4 x more fire resistant than fire board
is the very best
and at factory direct prices!

Concrete fireproofing - 4 x more fire resistant than fire board

1/2" treated fire board is the second insulator. Fire boards adds weight sand acts as a great back-up system for extra hot fires.

DOUBLE STEEL (optional)
$149.00 - $199.00 (Call Us)
Double steel construction is imperative for keeping safe at lower temperatures. The inner layer of steel contains the heat and makes for a longer lasting heat protector. The double steel also makes your safe more burglar-proof because the two layers of reinforced steel.

FIRE PROOF GASKET
To seal hot air out, all PYRO™ Fire Safe doors are lined with 1/16" fire gasket.
---





Sportsman
Concrete Fireproofing

Concrete fireproofing - 4 x more fire resistant than fire board


2 Layers of UL 5/8" fire liner
on six sides of safe & door


2 Palusol® Expandable Door Gaskets that expand to seven times their original size

2" Jig-Saw Step System Door -
4-Point Seal - Like a commercial-grade safe
Our FIRE WARRANTY is on fire. If any Sportsman Steel or Pentagon Safe is caught in a fire, we'll give you a free replacement safe! In 35 years we've only had one step door safe lost to fire. Video stating otherwise is being changed.

Custom Fire Ratings Available. Our step-system safes can be made in any fire rating. All we need to do is thicken your Step-System Door, add more insulation and increase your doors contact points. Fire Ratings are based on information available in fire safe industry.

---
Double Steel Fire Insulated Door
GUN SAFE WARNING!
Most gun safe manufacturers use a piece of $1.00 drywall for their fireproofing, then charge $300.00! - Don't be Scammed!!!
Sportsman's Airtight Double Gasket System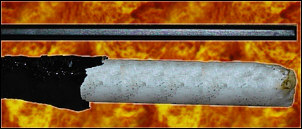 Our Palusol® Gaskets expand with heat up to 7 times its original size to seal the door.
Benefits of our Palusol® Gasket System
Expands faster at lower temperatures than other fire seals. Faster reaction time means
less smoke and fire damage.
Removes heat by evaporating water, thus producing a cooling effect.
Resistant to fire up to 120 minutes.
Environmentally safe and non-toxic.


"Call us for a free quote!"
1-800-266-7150
Visit our Houston or Long Beach Factory - Buy Direct!
*Fire time estimates are based on existing tests done in the fire industry and information we've received from fireproof experts, fire resistance research and in-house testing on our fire gaskets. These fire estimates are also based on vault doors being installed in vault rooms with approximately 10" thick concrete wall.

Back to top